The heavy rainfall caused by storm Daniel last week in Libya has led to an unprecedented disaster. Through its partner in the region, Cordaid was able to take immediate action to support the affected population.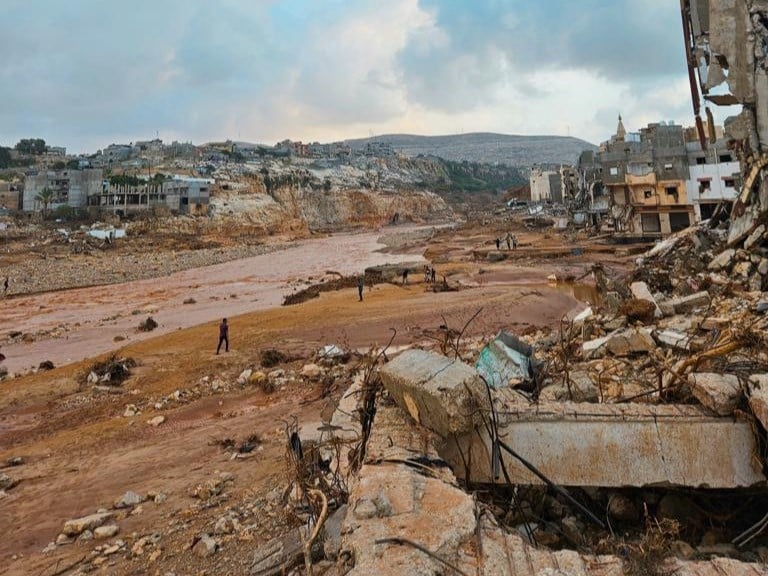 Floods in and around the city of Derna have left more than 11,000 dead, according to the Libyan Red Crescent. More than 10,000 people remain missing and some 30,000 people have been displaced.
The first days after a major disaster are crucial, for the victims, and for the relief organisations. The faster they can spring into action, the more lives they can save. But in a country like Libya, this is not an easy feat. After the fall of dictator Muammar Gaddafi in 2011, Libya was dragged into a conflict which has fragmented the country into various factions, each under the control of different warring parties. 
Chaos
"This complicates the organisation of our assistance," says Susanne Heukensfeldt Jansen, humanitarian coordinator at Cordaid. "In addition, the two governments, the fragmented information about the disaster and the damaged infrastructure create significant challenges. We have to work in that kind of chaos."
Fortunately, Cordaid can operate in Libya through an experienced partner that is well-rooted in the country and has the resources and manpower to immediately start providing assistance. Danish NGO Dan Church Aid (DCA) is, just like Cordaid, part of the ACT Alliance, a global network of Christian organisations. Through efficient cooperation, the members of the network can quickly respond to major crises worldwide. This way, Cordaid can provide assistance even in countries where its own staff is not present. 
"The destruction is so severe, that I expect the reconstruction will take quite some time. We must give people in the temporary shelters some dignity and hope."
This campaign is an initiative of the Dutch Relief Alliance, a partnership of fourteen Dutch aid organisations, funded by the Ministry of Foreign Affairs. The partners who have sufficient capacity to respond themselves, or through their partner on location, start a so-called joint response. To support the victims of this disaster, Cordaid will spend 450,000 euros over the next six months through DCA.
Advantage
"Through them", Susanne says, "we can quickly respond to the needs of people. We organised our response within 72 hours of the disaster. DCA was already present in Libya with 116 staff, and immediately started purchasing the necessary items. That gave us a huge advantage." 
With this response, Cordaid supports 4,200 people with non-food kits, containing several essentials, such as solar lamps, mattresses, cooking utensils, and curtains. These allow the displaced families to create some privacy within the public shelters, where they often must reside for a long period.
Susanne: "This is especially important for women and children. Who knows how long it will take before they can return to their homes? The destruction is so severe, that I expect the reconstruction will take quite some time. We must give people in the temporary shelters some dignity and hope. Privacy is an essential part of this."
Autonomy
Other important aspects of human dignity are freedom of choice and autonomy. That is why Cordaid does not only distribute items but also provides direct financial support to the displaced families. "Not one family is the same. The needs will differ. The markets in the area we are operating are functioning well, so people can decide for themselves what they need and then purchase that. Some will choose the specific food they like; others will buy medicines. It's up to them." 
"Many people have lost family members," Susanne continues. "To process the trauma, there is a need for psychosocial care. The great thing about a partnership like the Dutch Relief Alliance is that you can coordinate the activities. There are other organisations in the partnership that can provide this care, which makes us complementary to each other. It is a well-functioning mechanism."
-> Keep an eye on our website or follow us on social media to stay informed about our relief efforts in Libya.