Sierra Leone has one of the highest rates of Teenage Pregnancy in the world. Three in every ten teenage Sierra Leonean girls are pregnant, according to UNICEF (2015 figures). This is why Cordaid's Teenage Pregnancy Prevention Program supports the Government of Sierra Leone in preventing and reducing teenage pregnancies and pregnancy-related mortality and morbidity.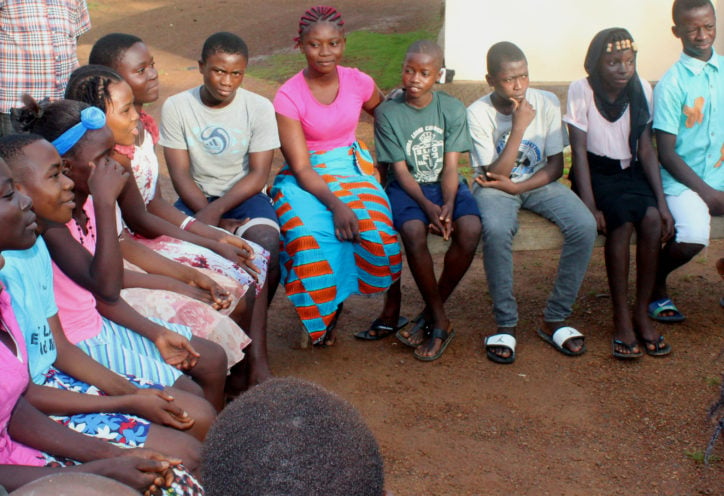 In the past two years, we empowered young people and their caregivers to make informed choices when it comes to their sexual and reproductive health. Cordaid did this in the districts of Bombali, Kenema, and Pujehun, with a total adolescent population of almost 250.000 people. In this endeavour we closely worked with local partners Health Poverty Action, Christian Brothers, and Planned Parenthood Sierra Leone.
"Our project is about equipping youth with the knowledge, skills, and attitudes to protect themselves. Without this, adolescents, especially young girls, are at risk of being exposed to teenage pregnancy and sexual exploitation."
Goals and results
We combine activities both on the demand and on the supply side of the health sector. Our aim is to reduce teenage pregnancies and decrease the incidence of sexual and gender-based violence.
To do this, Cordaid and partners:
trained 15 chiefdom-based adolescent groups (450 members) in SRH issues and the prevention of gender-based violence;
upgraded 15 health facilities with improved quality services and youth friendly corners;
supported 30 schools in better registering dropouts because of teenage pregnancies and gender-based violence;
promoted the establishment of active peer and parents clubs on teenage pregnancy prevention in the same 30 schools;
helped to set up adolescent friendly corners in 15 health facilities, where young people can gather comprehensive SRH information and get SRH services.
trained and helped to establish district and chiefdom multi stakeholder steering committees. These committees now hold government and service providers accountable in providing sexual reproductive information and education.
Youth friendly centers: pathways to increase SRH Coverage
Supporting health facilities to become more adolescent friendly, often only took small scale infrastructural improvements. The impact is substantial. "What adolescents rated as best improvements", says Raymond Jaia, Cordaid Senior Program Officer for Health in Freetown, "are better confidentiality, shorter waiting times, low cost and friendly staff. And what makes me really proud, is the fact that young people can access these services in some of the most remote villages in Sierra Leone."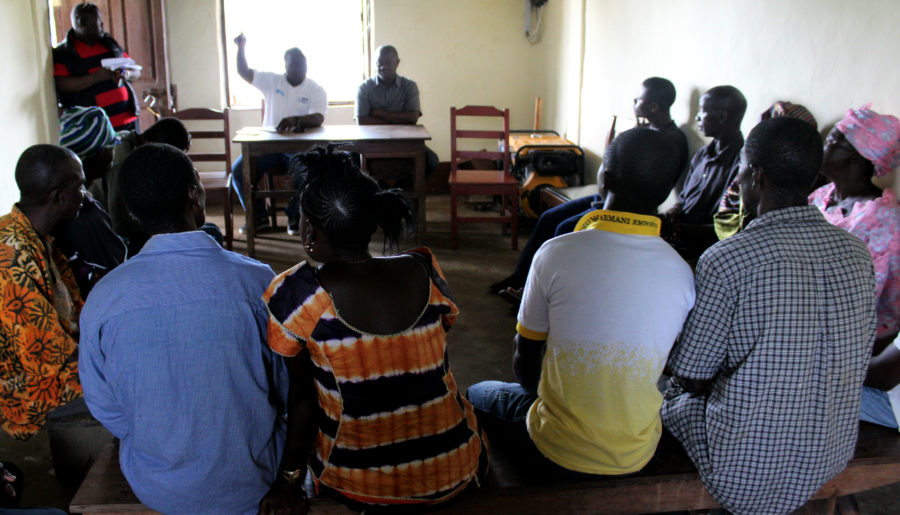 Sallay Kamara is one of the many adolescents whose life has changed thanks to the newly established Youth Friendly Corners. "When I was 17, I became pregnant," she says. "This was just before I was to be promoted to Senior Secondary School grade III. My parents asked me to leave home and I went and stayed with my aunt. I used to take herbs to prevent getting pregnant, as I could not afford modern contraceptives. And my fiancée could not support me to buy contraceptives. But now, thanks to the new Youth Friendly Corner here in Blama, I can get them for free. I visited the centre for family planning service with the help of a Chiefdom Committee member who explained to me about the services available at the centre."
Extensive mobile outreach activities
Cordaid and partners continue to play an important role in expanding access for young people to sexual and reproductive health and rights services (SRHR). Through extensive mobile outreach activities, young people have increased access to various SRH services. And community health workers and project staff raise awareness about family planning.
We will also continue to provide quality service delivery for in and out of school adolescents. We do this by providing comprehensive SRH education, training health staff in 'youth friendly' techniques, and advocacy campaigns to promote and protect the sexual and reproductive health and rights of young people.
Equipping young people with knowledge to protect themselves
Raymond Jaia, Senior Program Officer for Health highlights the importance of the intervention in these communities: "The Teenage Pregnancy Reduction Project is aboutequipping youth with the knowledge, skills, and attitudes necessary to protect themselves against unwanted pregnancy. And about providing access to reproductive healthcare services. Without this, adolescents, especially young girls, are at risk of being exposed to teenage pregnancy and sexual exploitation".
(featured image: adolescents discussing teenage pregnancy in their community, Pujehun town. © Cordaid)
Read more about Cordaid's Health care programs.
Read more about what we do in Sierra Leone.