Cordaid, EurAc and BEST (Cordaid's local partner in DR Congo) organised a parallel session as part of the 13th OECD Forum taking place in Paris from 23 to 26 April 2019. The session focuses on opportunities and challenges arising from the new Congolese Mining Code. It also analyses EU Regulation on responsible mining in conflict-affected and high-risk areas.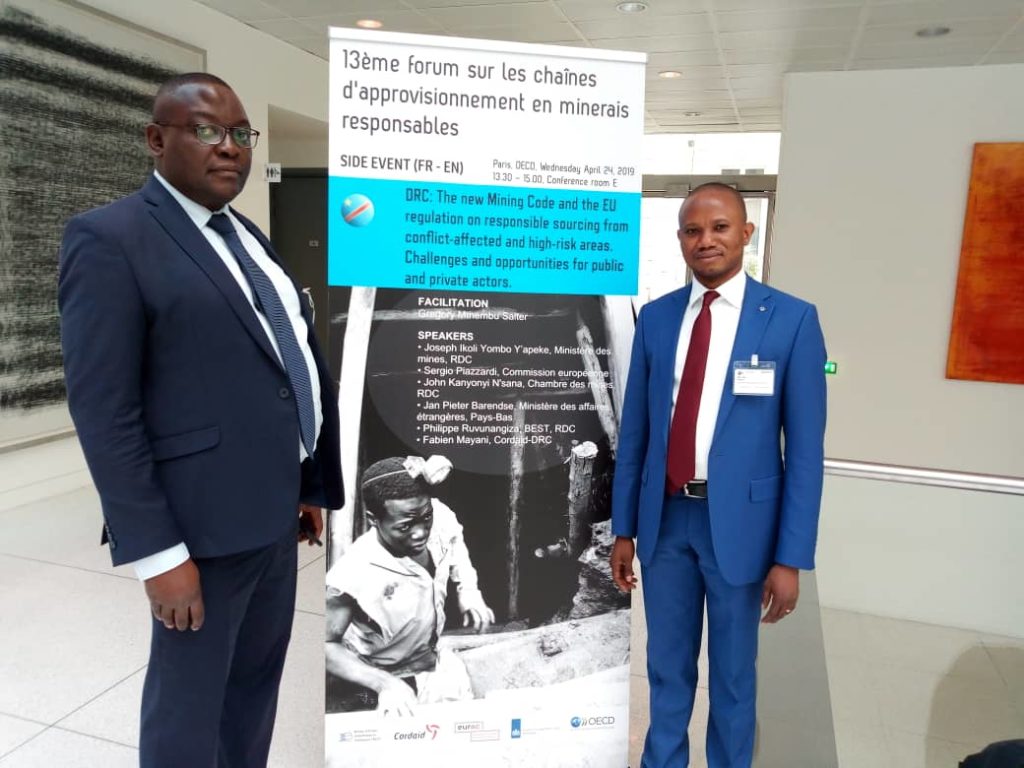 Participants and panellists of the session include representatives of civil society organizations, DR Congo government, the EU, the European Partnership for Responsible Minerals (EPMR), the private sector, the Dutch Ministry of Foreign Affairs and academic institutions.
"The DRC new mining code and the EU Regulation are complementary tools. They aim to ensure responsible supply chains for minerals coming from DR Congo. But many operational challenges remain", says Fabien Mayani, Advocacy Program Coordinator for Cordaid in DR Congo.
Challenges and recommendations for the DRC and EU
Key challenges identified for the DRC government include:
implementation regulations of the revised mining code still need to be finalised;
the government's capacity to monitor the implementation of the new mining code needs to be strengthened.
Recommendations tor the EU are:
to elaborate implementing measures before the Regulation enters into force in 2021;
to support DR Congo in improving governance of the mining sector;
to reinforce dialogue with member states of the International Conference on the Great Lakes Region (ICGLR) to fully implement the ICGLR's mechanisms on combating illegal exploitation of minerals and mineral certification in the Great Lakes Region.
New Mining Code promotes transparency and traceability
The new Mining Code was approved into law by the Congolese parliament in March 2018. The new Code revises a law from 2002. The previous mining law had been heavily criticised for its lack of transparency and for failing to promote the contribution of mining revenues to the development of local communities.
The new mining code strongly promotes transparency, certification and traceability. It:
provides for the disclosure of mining contracts and mining production statistics;
recognises international transparency initiatives, such as the Extractive Industries Transparency Initiative (EITI);
it imposes a strong regime of corporate social responsibility vis-à-vis local communities.
The provisions relating to traceability and certification reinforce the existing regulating framework. Within that framework the Congolese government already approved a handbook on the traceability of artisanal and small-scale mining products, as was required by the certification mechanism of the ICGLR.
Session panellists also analysed the 2017 European Regulation on the responsible supply of gold and '3T' minerals (needed to produce tin, tungsten and coltan) from conflict-affected and high-risk areas. They discussed how national legislation in DR Congo can comply with international due diligence obligations, and how the interactions between domestic initiatives and international provisions and standards may lead to more transparent and responsible supply chains.
Read more
Read more about Cordaid's work in DR Congo.