The three consecutive earthquakes that severely affected western Afghanistan in the second week of October, destroyed 21,500 homes, killed over 1,000 people and injured almost 2,000. According to the UN, the disaster has affected 154,000 people in total. Together with its local partner, Cordaid is responding to the most urgent needs of the population.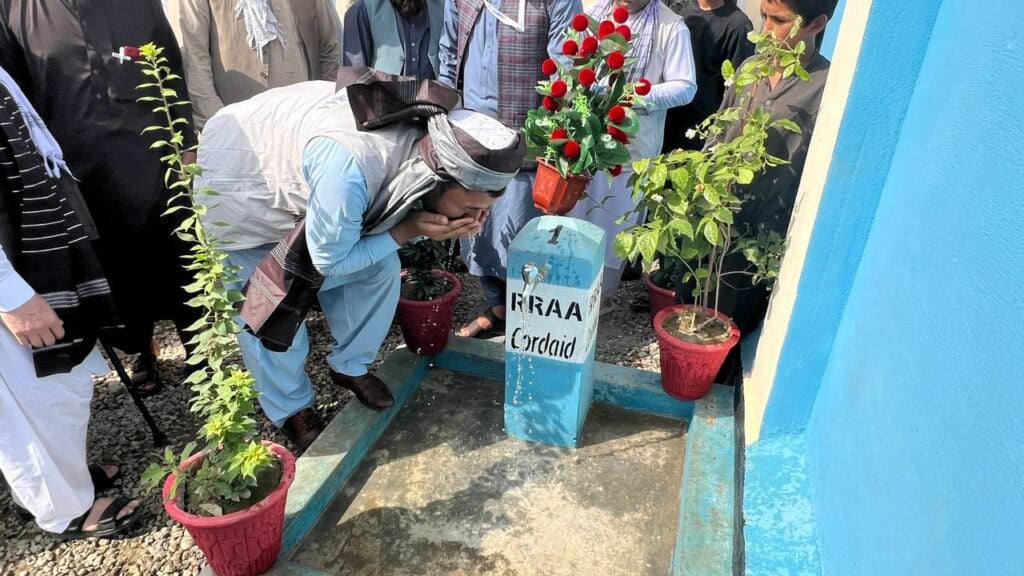 The earthquake had a devastating impact on a population that was already struggling with a great number of problems. On top of all this, winter is approaching fast and many families still do not have a proper roof over their heads.
As part of a joint response by the partners of the Dutch Relief Alliance, Cordaid and the Rural Rehabilitation Association for Afghanistan (RRAA) will provide emergency relief in two of the most affected districts in Herat.
In six villages, the organisations will rehabilitate water and sanitation facilities, and provide hygiene products and financial support, while other partners in the area will also be providing the necessary shelter for families who have lost their homes.
"Nobody expected this"
"This was a completely new experience for us", says Riaz Wali, head of programmes for RRAA. "We are not in an area that is used to seismic activity. Not even the oldest people here can remember ever experiencing an earthquake. Nobody expected this and many buildings could not withstand the shocks and collapsed. About twelve to fifteen villages have been completely wiped away. There is nothing left."
Immediately after an earthquake, chaos usually reigns. The infrastructure has been destroyed and it is often challenging to restore channels of communication. What is the situation of the affected population a few weeks after the disaster? "Well", Riaz sighs, "Because of the continuing shocks, even those who still have a home, don't dare to stay inside anymore. People are living outside, in tents, in parks, in open areas sometimes. At night it gets cold and they have nothing to cover themselves."
"Do not forget about Afghanistan in this difficult time."
"This situation, it is so difficult for people", Riaz continues. "When we talk to them, they cry, and we are crying as well. We do what we can. We provide them with information, we talk to them, but when you hear their stories, you can't help it, you become emotional as well. In Afghanistan, people live closely together, in one house, in one space even. Can you imagine, for a family to lose five members? At least relief organisations are supporting them. I have seen how happy it makes them, to feel that they are receiving sympathy from other parts of the world. It gives them the energy to cope with all this."
Emergency assistance for the affected population in Herat
In the coming six months, Cordaid and RRAA will repair at least eight crucial water systems to ensure continued access to safe water for an estimated 13,440 people. They will also construct 100 latrines, organise activities to promote hygiene, distribute kits containing essential hygiene products among 100 families and provide financial support to 1,500 households.
"For the long term, we have more activities planned", Riaz says. "We need to reconstruct more water facilities and we need to provide equipment to farmers so they can restart their work and livelihood. We also need to continue to support people financially. They will need this because, during the time they are rebuilding their houses, they won't be able to work for their income. We plan to provide solar-powered lighting systems because, after sunset, people are living in the dark. Lastly, we also would like to start psychosocial support services. We need to help people cope with the trauma they have experienced during the disaster."
A heartfelt plea
Though he is satisfied with the relief programme the partnership is implementing in the coming six months, Riaz still wants to make a heartfelt plea to donors worldwide to not lose their attention on what will be needed after that period. "We are experiencing many disasters at the same time and people are suffering a lot. They need our support, but our resources are limited. We depend on the funds we receive. I can only ask: do not forget about Afghanistan in this difficult time."