In the Democratic Republic of Congo, HIV and tuberculosis services remain difficult to access for people facing discrimination. People continue to be stigmatised based on their HIV status, gender, or sexual orientation. We bring you to the northern province of Tshopo to meet with the paralegals. These activists bring their knowledge of human rights to their communities and improve access to appropriate care.
For people living with HIV and tuberculosis, access to health services is key. Treatment for tuberculosis can last between four to seven months. And if a patient interrupts its treatment, the virus can become resistant to the cure, turning to what is called drug-resistant tuberculosis. With HIV, medication is for life. Put simply, ensuring access to health services is the cornerstone to preventing deaths from those diseases.
Mapping realities
In the DRC, nearly half a million people are living with HIV and thousands die from it every year. Tuberculosis remains the number one reason why people living with HIV are dying every year. And the DRC is one of the countries with a high rate of multidrug-resistant tuberculosis. That is why Cordaid works with the Congolese Ministry of Health, with funds from the Global Fund, to strengthen HIV and tuberculosis services. We do so by making available medicines against HIV and tuberculosis and working with communities to improve access to care services. Cordaid works on HIV and tuberculosis across 24 of the 26 Congolese provinces.
As part of strengthening health services, Cordaid also implements a gender and human rights approach. Why? Because stigma and discrimination remain the largest barriers to accessing healthcare for people living with HIV or tuberculosis. People continue to be excluded because of their health status, gender, and sexual orientation.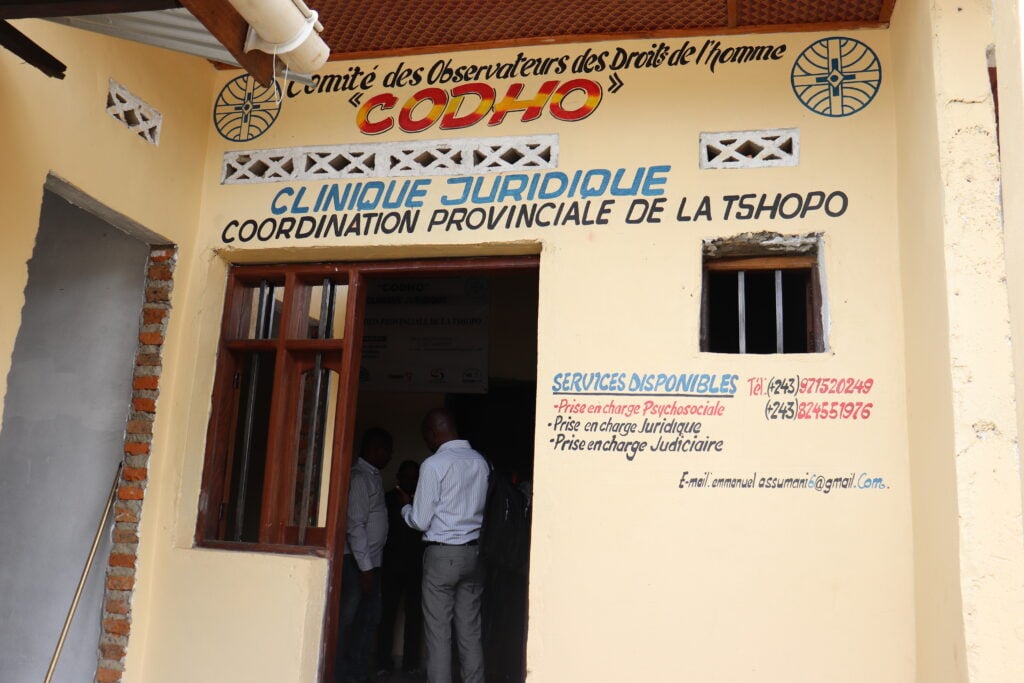 Today we zoom in on the northern province of Tshopo. The approach used is the "Hub" which connects through referrals the different HIV and tuberculosis services available. In the Hub, we collaborate with 11 community centres and four legal clinics working with people living with HIV and tuberculosis. They ensure HIV and tuberculosis services are holistic and accessible to all.
The need for information on justice
One of our angles with the Hub approach is working with paralegals. These paralegals play an essential role in providing communities in the DRC with access to justice, particularly for people in vulnerable situations.
Paralegals are community activists rather than lawyers. They have a basic knowledge of the law, legal procedures, and the sociological realities of their country. In turn, they help make legal information accessible to their communities. Especially to people facing discrimination and exclusion. These paralegals are recruited and trained by our local partners and are often from those groups who experience discrimination themselves. That way the programme ensures it is sensitive to the communities' needs and realities, encouraging access to those services.
"The gaze of others continues to be an important factor preventing people to seek justice."
Through our local partners, paralegals can strengthen their existing knowledge of gender and human rights related to HIV and tuberculosis. They are trained by the National AIDS Programme (PNLS) and the National Tuberculosis Programme (PNLT). Under the coordination of local partners, and with financial support from Cordaid, they are trained in legal concepts and in turn work to improve the knowledge of communities on gender and human rights. Training sessions address barriers and challenges most commonly encountered by stigmatised communities.
Their main activities consist of awareness raising, legal and psychosocial support, and referral. And the impact of their work within our programme is clear: they improve access to services.
Who are the paralegals?
To begin with, meet Rodrigue. He is a paralegal working with the Legal Clinic CODHO, in Tshopo's provincial capital of Kisangani.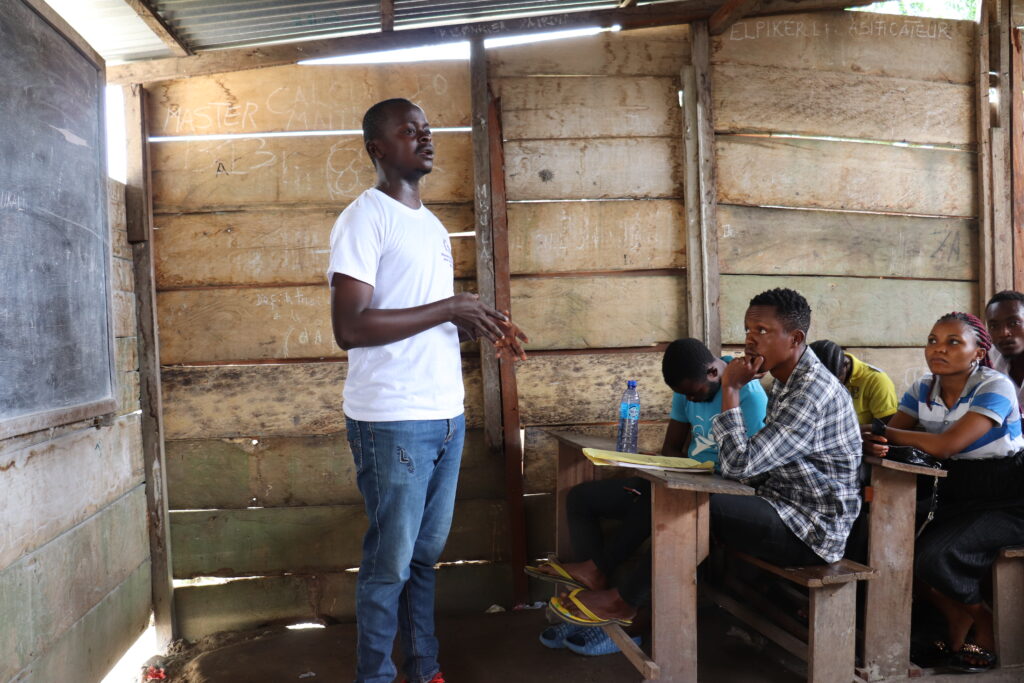 "I go door-to-door in the Commune of Mangobo to organise awareness sessions on HIV and tuberculosis. I transform any occasion into an opportunity for awareness raising. Sometimes when I walk in the street and I see young people playing football, I go towards them and sensitise them as well. Afterwards I give them an appointment and information about our weekly sensitisation activities."
Stigma and discrimination remain the largest barriers to accessing healthcare for people living with HIV or tuberculosis.
Next, meet Adèle, a paralegal from the Club des Amis de Damien in the Tshopo province. She raises awareness about tuberculosis. She explains that certain barriers make their role as paralegals challenging, especially socio-economic barriers that often prevent people from seeking justice.
"Sometimes the people we work with refuse to go to court. When stigma is experienced in the family home, they refuse to take legal action for fear of being kicked out by their parents. In such cases, we offer psychosocial support and, above all, we do not pressure them to file a complaint."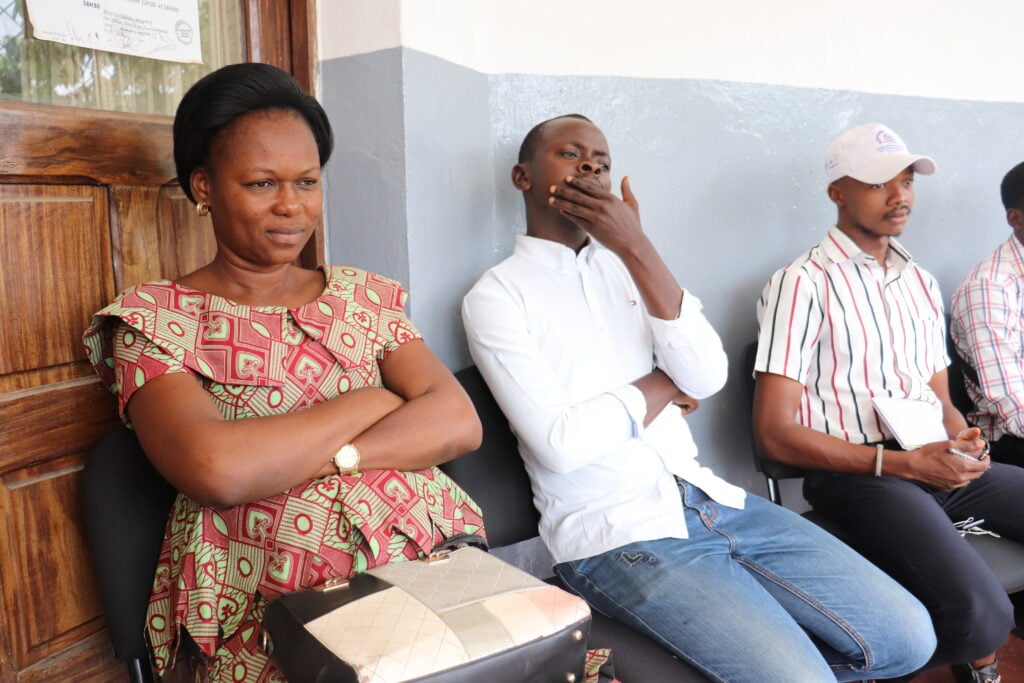 "We also have cases where some people only feel comfortable in the presence of their peers. Transgender people, for example, might stay away from legal clinics to report physical violence; they go to health facilities for (medical) care but refuse any form of justice. The gaze of others continues to be an important factor preventing people to seek justice."
The impact of paralegals
The examples of impact of paralegals are numerous. Paralegals help bridge the gap caused by discrimination. And ensure their communities are informed with appropriate legal knowledge and referred to healthcare. Cordaid aims to scale up this gender and human rights approach within its HIV and tuberculosis programme in the DRC. And aims to reach more people living with HIV and tuberculosis who experience barriers to accessing healthcare.