It is code red for many farmers in Rwanda. They are dealing with the effects of climate change and often manage agriculture that heavily depends on rainfall. Kayonza district, in the east, is particularly drought-prone and food insecurity is looming. Cordaid's STARLIT programme supports farmers to resist prolonged disasters.
STARLIT (Strengthening Agricultural Resilience through Learning and Innovation) targets 2,800 farmers in the maize value chain in Rwanda and Kenya. The project focuses on three components: supporting smallholders with access to digital information, access to mechanisation, and access to finance.
Access to information
One of the key factors impeding the farmers to respond to climate change is simply insufficient information. Data is crucial for planning the work on the land, including when to plough, plant and apply fertilisers.
"We learnt a lot, ranging from field preparation to post-harvest management. This will surely increase my harvest."
That is why STARLIT partnered with digital enterprise VIAMO and designed a remote training focusing on good agricultural practices to improve the production of maize.
"With this old mobile phone, I followed eight lessons. Right here, in my own house", says Jean Baptiste Iyamuremye, a member of a farmers cooperative in Kayonza. "I also invited my neighbours to join the training. We learnt a lot, ranging from field preparation to post-harvest management. This will surely increase my harvest."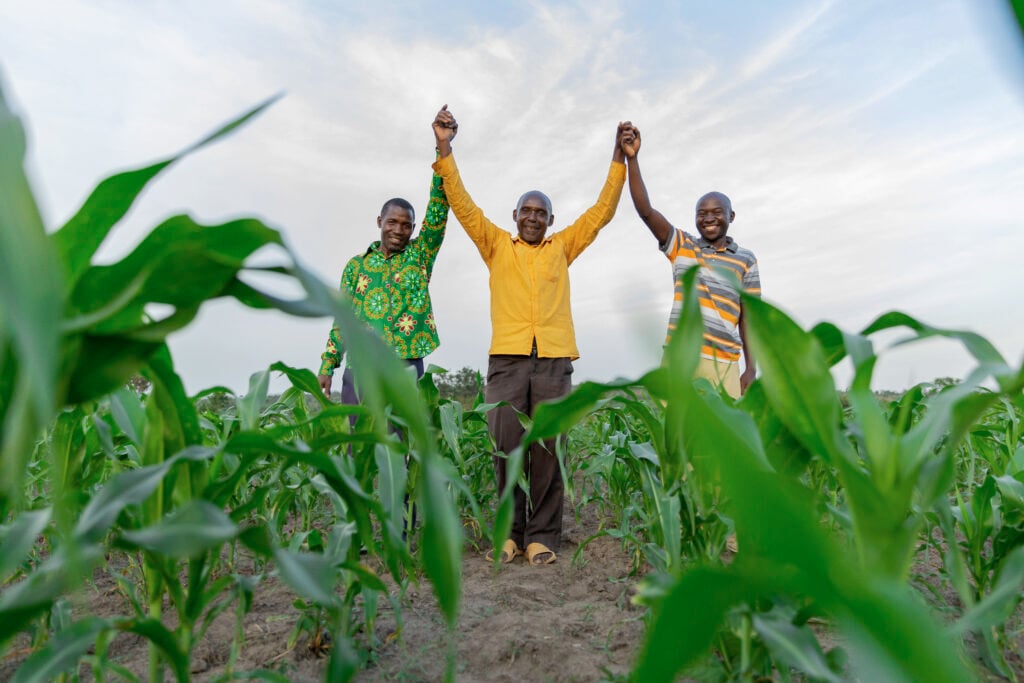 The remote training targeted 1,700 farmers in possession of a phone but effectively reached 2,623 people. Participants often used their loudspeakers and attended the courses together with their neighbours.
Access to equipment
Due to the prolonged dry periods in the region, the farmers need access to quality irrigation technology. STARLIT supplied 46 irrigation systems and partnered with equipment suppliers to organise demonstrations to raise awareness of the importance of irrigation and how to control drought.
"Last season was terrible. We planted our crops but we could not harvest. There was no rain", says Claude Twagiramungu, the president of a cooperative in Rwimishinya Village. "This season we received two irrigation systems for our two hectares. We started irrigating and now we worry less, even when it does not rain."
"If all goes well, I will create my own company, expand my business, and hire other young people."
Though the farmers are content with their new equipment, the lack of maintenance services in the area remained a major challenge. Equipment would often be used for a brief period after it would break down and be abandoned.
STARLIT trained 20 young people on agricultural equipment maintenance, of which 40% are female, to ensure farmers have access to maintenance services while creating employment opportunities for youth in rural areas.
Delphine Ikuzwe, one of the maintenance service providers, says she is impressed by the innovative approach: "I did not know about the opportunities in the agricultural sector. This way, I support farmers by fixing their broken equipment and earn enough to sustain myself. I do my best and hope to get more clients. If all goes well, I will create my own company, expand my business, and hire other young people."
Access to finance
Solutions targeting smallholder farmers are more likely to be successful if they are combined with access to finance. STARLIT supported a microfinance institution to develop tailor-made financial products to suit the needs of farmers.
The project also trained financial institutions in risk management and introduced the Agricultural Credit Assessment Tool (A-CAT). With this tool, the loan officer estimates the expected loan amount needed to finance inputs and other costs, as well as the expected income from agricultural activities. Microfinance institutions can now determine the ideal loan amount for a farmer and whether it is feasible for them to repay it.
Through the STARLIT programme, 1,176 farmers, of which 48% are women, have obtained a loan. The project continues to provide technical assistance to twelve savings and credit cooperatives and four microfinance institutions.
Starlit is funded by the International Fund for Agricultural Development (IFAD).