In South Sudan, healthcare workers face many additional burdens, such as conflict, natural disasters and a lack of resources. How do you provide quality health care during a protracted humanitarian crisis?
Text and images by Adriana Parejo Pagador, Programme Communication Officer at Cordaid.
In places crippled by past conflicts and powerful floods, maintaining quality standards for health care is difficult, but when it comes to fighting HIV and tuberculosis (TB), the world's deadliest infectious diseases, the challenges are enormous.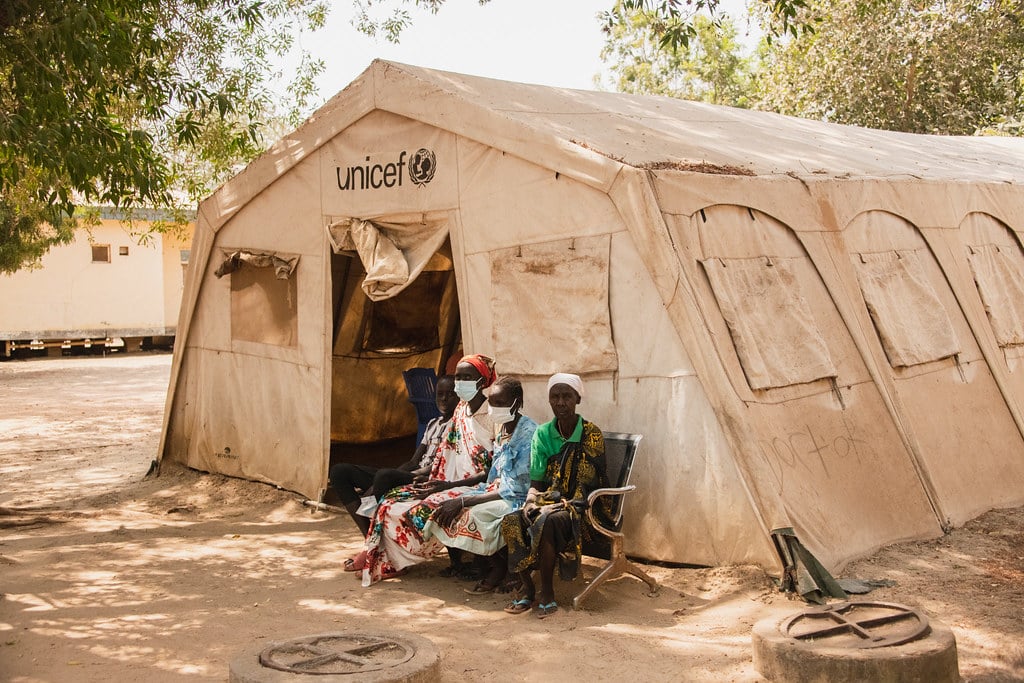 Since 2015, Cordaid is training medical staff, delivering medicines for HIV and TB in South Sudan and equipping laboratories with microscopes and testing machines.
This programme supports 126 health facilities in six out of the 10 states of South Sudan. To achieve this, Cordaid works with a wide range of actors: civil society organisations, medical staff, data collectors and drivers, as well as health authorities both at the national and state levels.
Together, we can reach communities even in the most volatile areas of South Sudan. In Bentiu, the collaborators aim to strengthen health care in a durable and long-lasting way.
South Sudan: A story of war and disaster
Bentiu is a county located in Unity State, in the northern part of South Sudan. Upon arrival, it does not take long to understand terrible events took place on these lands. Its landscape is scarred with remnants of armed conflict. The streets are lined with bombed cars and houses are riddled with bullet holes.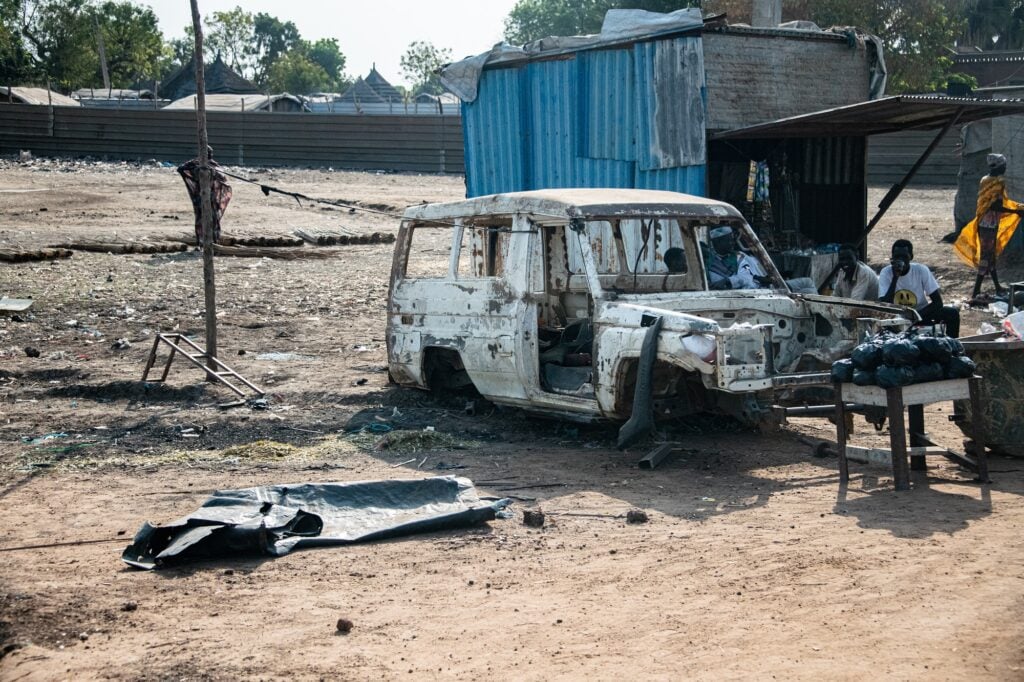 It was once a place dotted with villages that lived autonomously. Mainly from cattle grazing, communities fed and cared for themselves. They lived in thatched-roofed houses that kept the heat out and the indoors cool.
In 2013, things changed for the worse. Two years after gaining independence, South Sudan went through a bloody and violent civil war. And a second one in 2016.
The crisis, fuelled by political struggle, ignited ethnic-based fighting among tribes. This caused mass displacement. And entire communities had to flee their homelands. Some groups needed further protection from ethnic violence and were relocated to UN-managed gated camps called Protection of Civilians sites.
A peace agreement was signed in 2018. Communities could begin grieving and rebuild shelters. But then, powerful floods ravaged the entire Unity State. Every year, the Nile River overflows during the rainy season, between April and November. In 2020 however, the water reached unprecedented levels and never left. 90% of the population lost their land and their homes.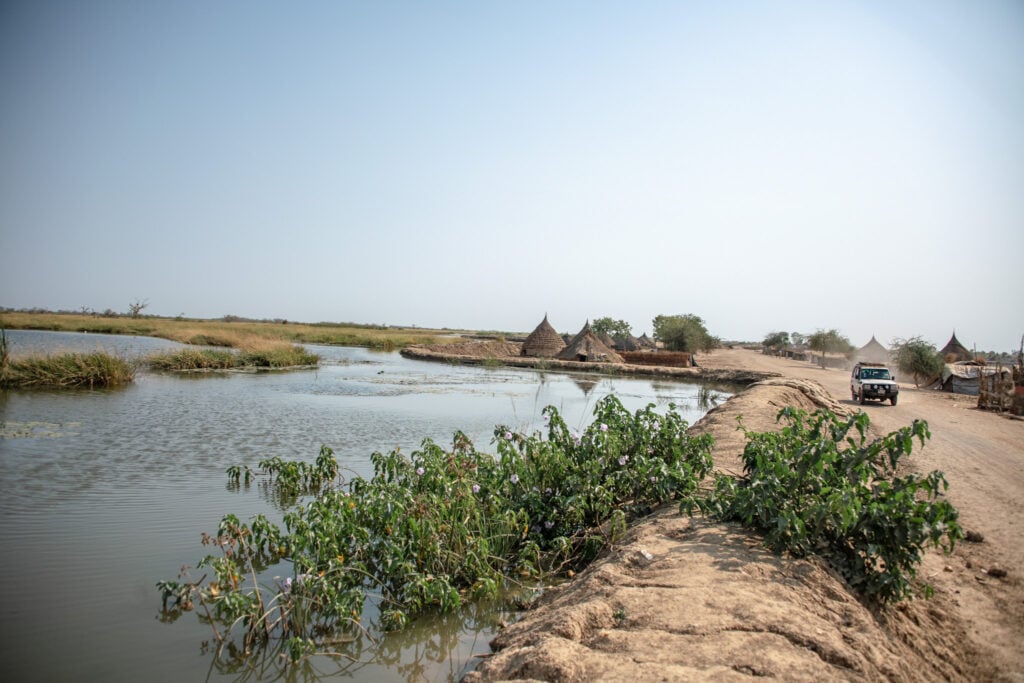 Today, most areas are still under water. The landscape looks completely different. Most villages were looted. Pastoralism, as a source of livelihood for most, has become impossible. What remains of the land is wrapped by tall mud dikes that keep the water away. Beyond the dikes, thatched roofs are sticking out from under the water's surface.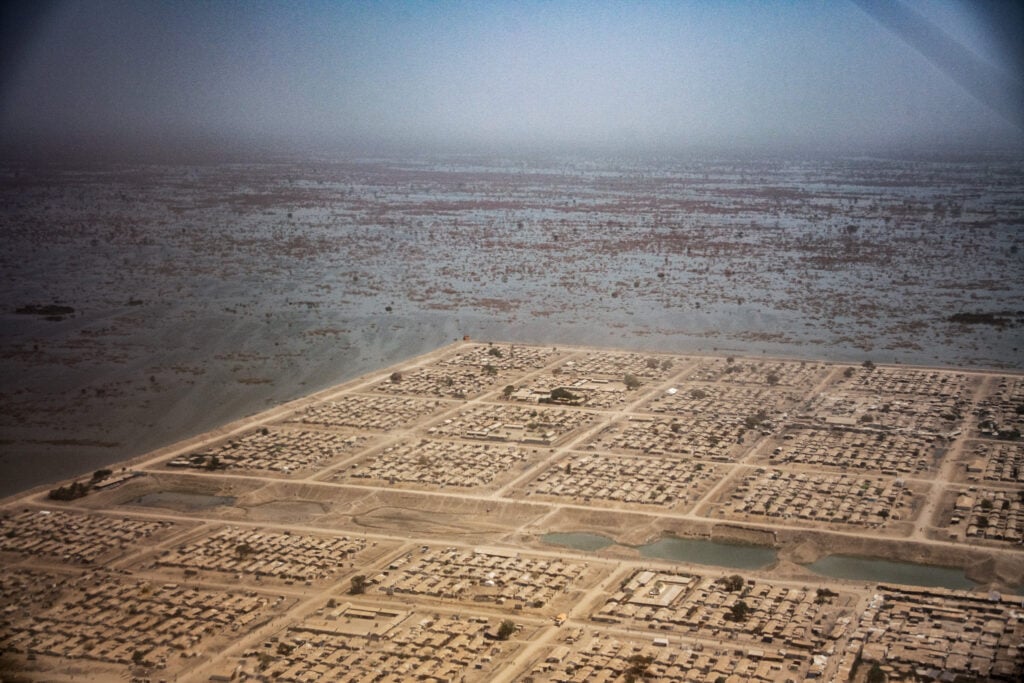 Most people in and around Bentiu are living in overpacked makeshift shelters. Around 96 thousand people live in the POC, and another 58 thousand live in camps in the area. There is little access to clean water and food. In these conditions, maintaining good hygiene and good health is nearly impossible. This allows infectious diseases, like TB, to spread fast.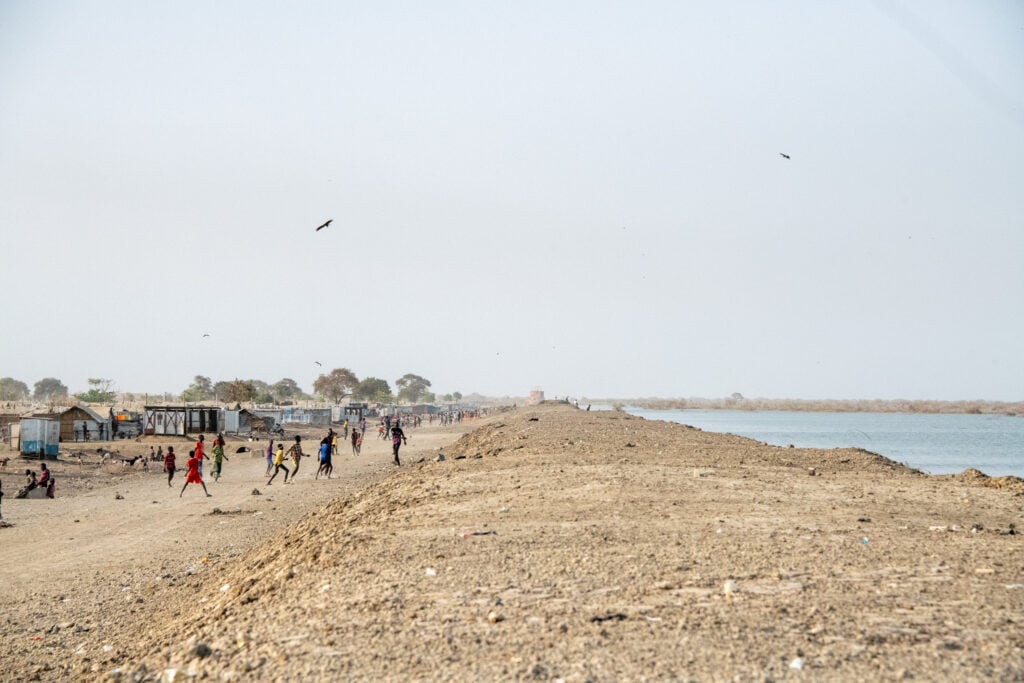 Integrating HIV and TB services
HIV and TB are two infectious diseases that often strike in combination. TB spreads fast in overcrowded camps. Much like COVID-19, TB spreads through coughing, sneezing, or even speaking.
TB usually affects people with weaker immune systems, like people living with HIV, or people suffering from hunger.
In a place like Bentiu, where hunger and malnutrition are unfortunately commonplace, TB can thrive. That is why Cordaid supports health facilities to integrate TB and HIV services.
In the maternal healthcare unit, every pregnant woman is tested for HIV. Early diagnosis in pregnant women is key to preventing transmission of the virus to the child. If a diagnosis is positive for HIV, the person is tested for TB among other infectious diseases.
On the same day, medical professionals can diagnose and treat patients accordingly, for HIV or TB, or both. Daily, trained nurses carry out educational sessions in the antenatal care department, raising awareness about HIV transmission and prevention.
Diagnosis and care
It all starts with diagnosis, a key aspect of strong health care. Diagnoses for HIV and TB are carried out by key departments, including in antenatal care, out-patient, and in-patient units. In addition, by strengthening lab capacities in Bentiu, we improve the ability of health facilities to detect, treat and prevent the spread of infectious diseases. Cordaid equipped Bentiu State Hospital with a microscope and a GeneXpert, a machine that doubles the chances to detect TB, among other infectious diseases.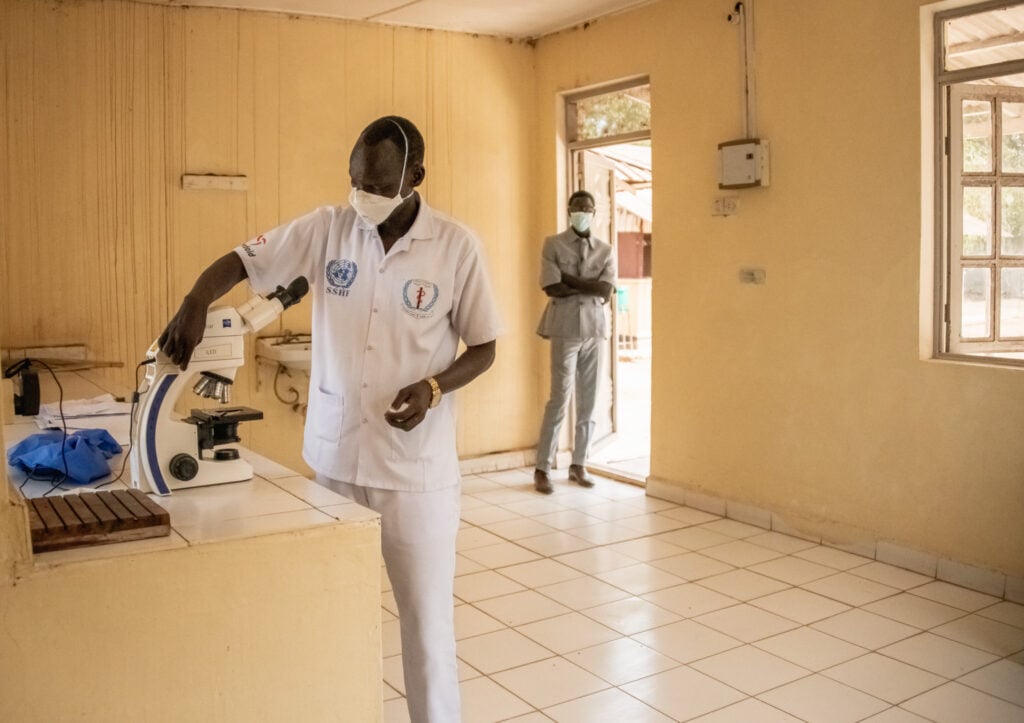 Kerubino Caiel Kong is one of the lab technicians at the Bentiu State Hospital. "In this lab, we examine our samples for tuberculosis. We have many challenges here", says Kerubino, who has been working in this laboratory for fifteen years. Way before the conflict started in 2013.
"There was a conflict in Bentiu a few years ago. People came and destroyed parts of the hospital. A part of our department is still in ruins today. We started rebuilding. And then, the flooding started. As you can see, the building is very run down because of looting and flooding."
Kerubino is excited about the provision of the microscope and the GeneXpert machine lab by Cordaid. "Before we had these machines, our clinicians were only able to diagnose TB based on symptoms and physical appearance examination. Like that, you might miss a lot of cases. You can only be sure with a microscope and a GeneXpert machine."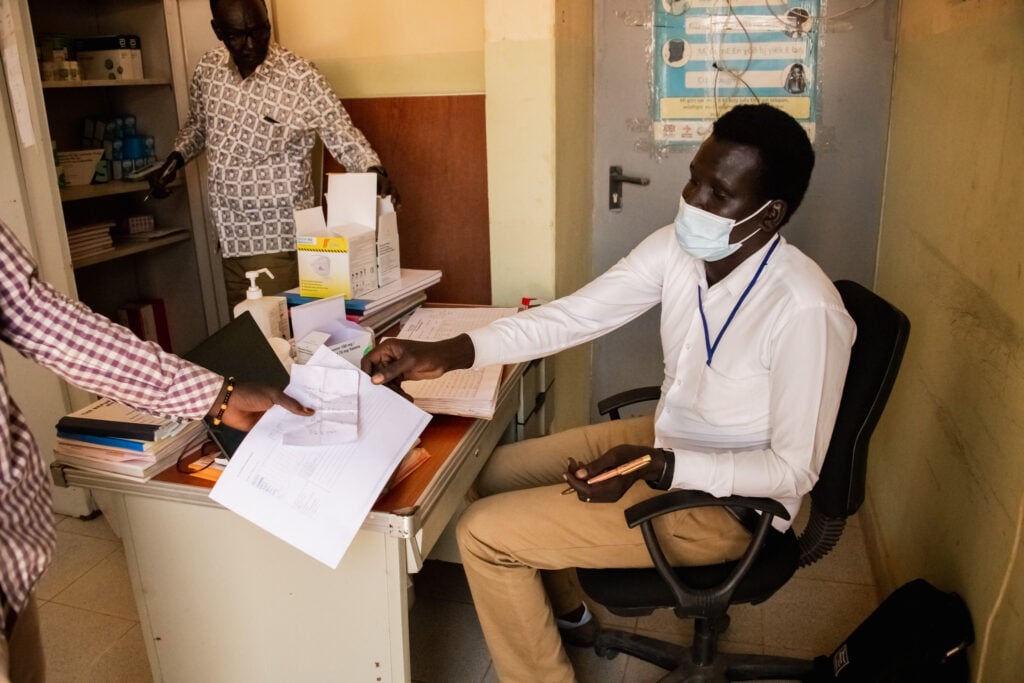 Once a patient has received a diagnosis, they see Riek Gatluak. He is a nurse specialising in HIV and TB. He tests, treats and counsels patients. "I like being a nurse very much, even though it is difficult", Riek explains. "I want to save lives, and prevent human suffering."
Medicines alone are not enough. Counselling and awareness are also central to the care package for patients.
"There is a lot of fear around the word HIV. For most people, it is like a death sentence. They may be in shock and then refuse their treatment because they cannot cope with the stress. Through counselling patients, we help them understand that HIV can affect anyone. That with consistent treatment, they can continue living a normal life. They will still be able to care for their children. But for that, the only option is treatment and transmission prevention. It is very important to educate people on how HIV is transmitted, and on how to protect themselves."
Cordaid trains and tops up the salaries of medical staff, including doctors, lab technicians and nurses, like Riek. "We appreciate Cordaid and the other partners. Without that support, we wouldn't be able to provide these services to our community".
Delivering medicines even to hostile environments
South Sudan is among the most dangerous places for humanitarians, according to the UN. Most aid workers, including our colleagues, live in a UN-protected campsite which is surveyed 24/7. Yet, Cordaid remains committed to bringing health care where it is needed, all the way to the last mile.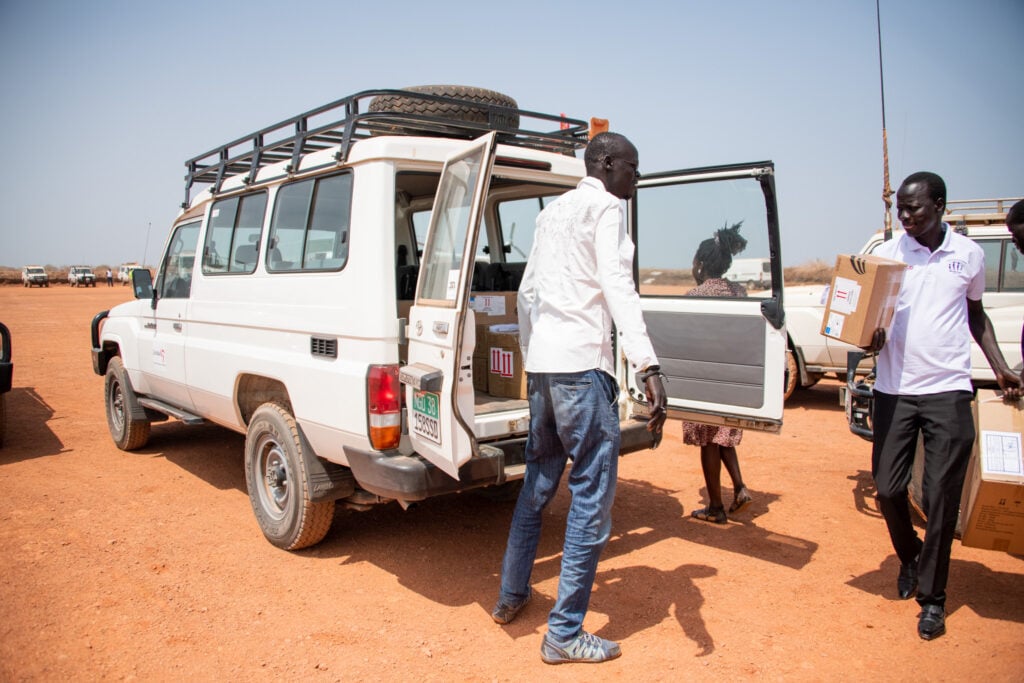 Delivering medical supplies from the airfield to the health facilities is one of the tasks. While medicines for HIV and TB patients are a matter of survival, deliveries can be delayed by floods and insecurity. That is why the facilities need a buffer stock of two to three months of treatments in case any delivery issues occur.
Stronger health for a better future
Health systems should first and foremost be about the communities it serves. Mya Joker, 40 years old, was diagnosed with HIV a few months ago and needed to find help.
"Where I live, the land is surrounded by flood water", Mya says. "I came by boat. The journey is very difficult. It takes two days by boat in the 40-degree hot sun."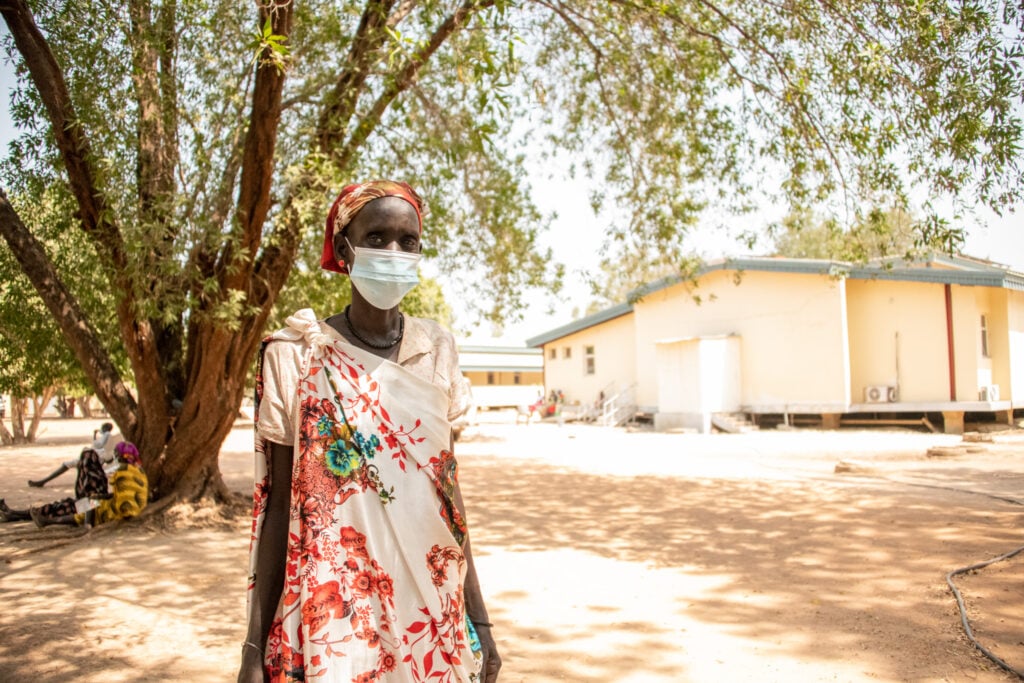 "When I heard my diagnosis, I thought I was going to die. And I thought of my children. I was so weak physically. Here in Bentiu, nurse Riek explained to me that you can live a healthy life with HIV, that I will still be alive to care for my children if I am committed to taking this treatment."
"Today, I am here to get more medicines for HIV. I am doing better. Once I am strong enough, my dream is to cultivate land to feed my family. I wish them a healthy life. I believe I will be healthy again. Coming here and meeting the nurse gave me the hope that I can live."
"I am very thankful for the support of the hospital that gives me the treatment. Otherwise, I would not be alive and could not continue the care for my children. They saved my life."
A few words from our staff in Bentiu
It is in this context that our colleagues, based in Bentiu, are striving to improve health care. Daily life in Bentiu is hard and particularly dangerous for humanitarians. It is often in transit that humanitarian workers are targeted by armed groups who aim to cut off aid supplies to certain regions.
Anwar Zacharia, Cordaid's Area Coordinator: "When we see the positive impact this programme has on people in the health facilities, it motivates us to go on."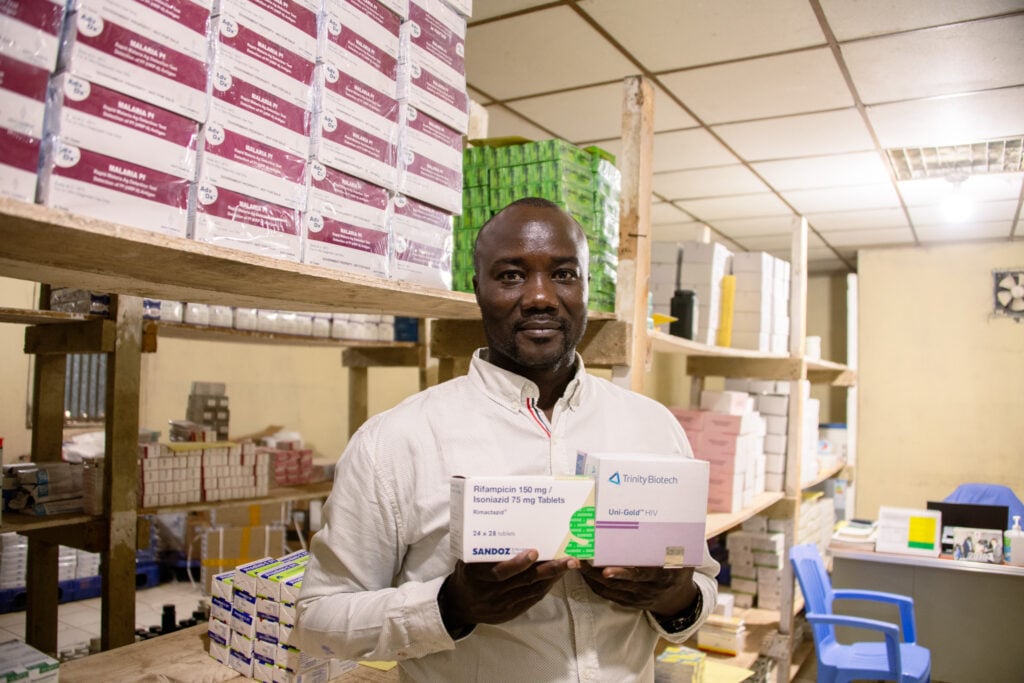 Working with Anwar is Sarah Auma Ochieng, who joined the team in January 2023 as a programme coordinator. Sarah says, "Despite everything, I have a lot of hope that we can further improve the quality of HIV and TB services. HIV and TB treatment is greatly improving because of the service integration. By working together with the different parties involved, we can identify gaps and improve them."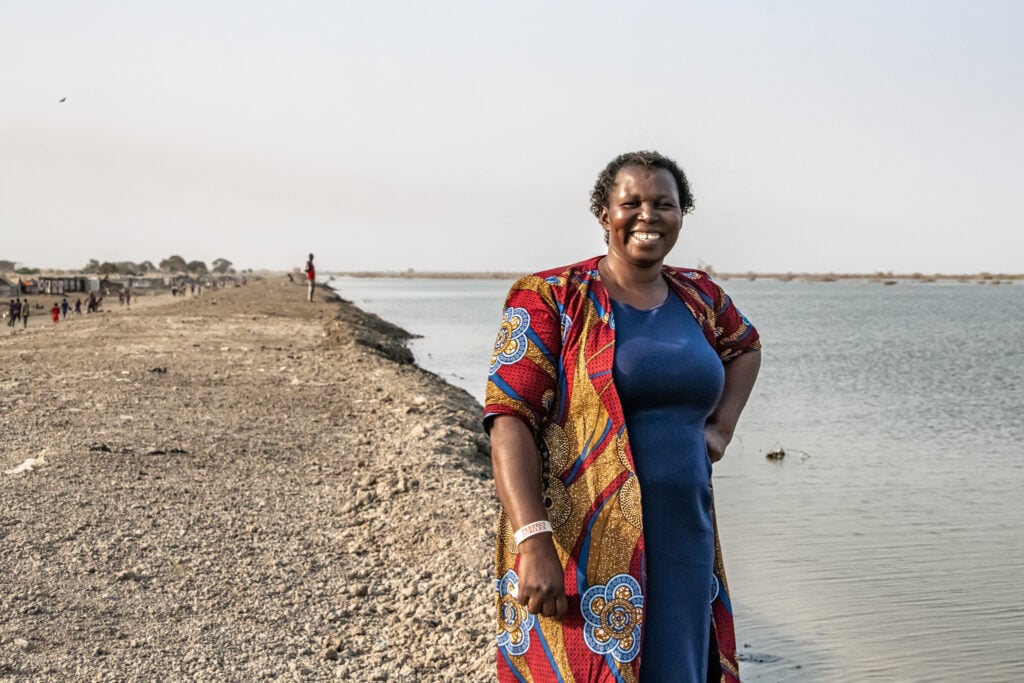 Health systems strengthening is about generating sustainable impacts, even in a volatile context. Cordaid takes a long-term approach to protracted humanitarian situations wherever possible.
This programme is made possible thanks to the support of the Global Fund.