On PlusPlus, a crowdfunding platform that was co-founded by Cordaid, you can now invest in a microcredit partner that offers loans to Rwandan farmers. Abeza Josée is one of them.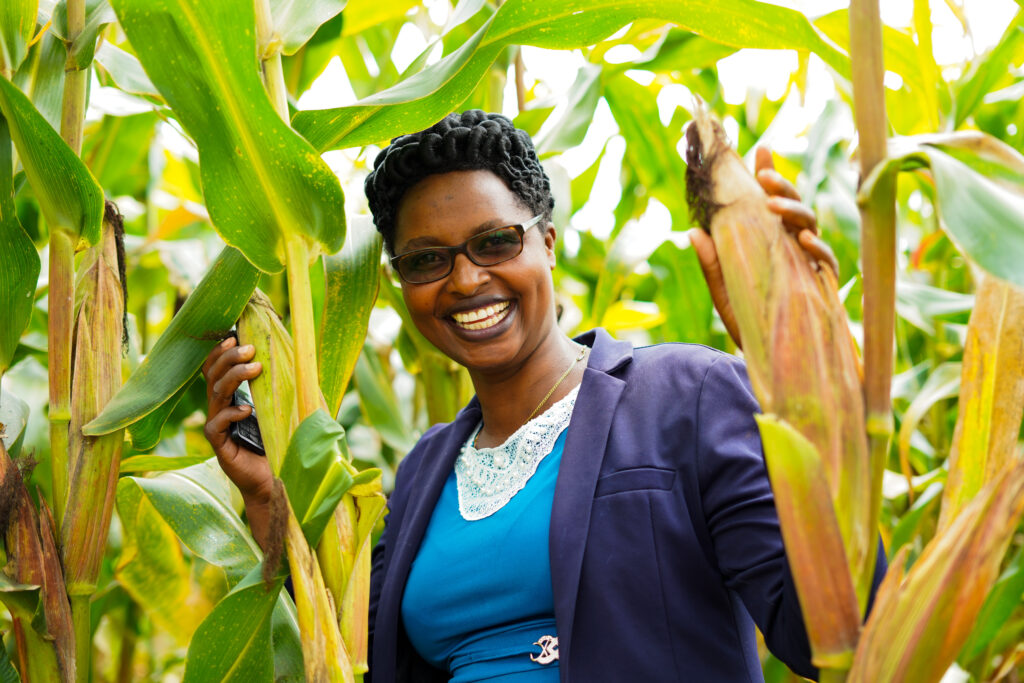 For a long time, this maize farmer considered her farming to be just for survival. After joining a farmer savings group her life changed. With the loans she received, she was able to invest in her crops and increase her yields. The extra profit she reinvested in land. Now, Josée is a businesswoman, with 4 times the land size she once had and with her own tailor business. For women like Josée, access to finance is a key to success. At PlusPlus, European investors can now provide her with that.
"I never imagined that I could live off farming, save and invest in other economic activities", Abeza Josée says. "I used to practice traditional farming for the survival of my family. From my 20 acres of land, I harvested 80 kg of maize. As long as my children were able to eat and had the basics they needed, I felt satisfied." For many female farmers in Rwanda, this sounds familiar.
"The CLECAM loan allowed me to get access to agricultural inputs on time. I could get seeds at the right time for planting, and fertilizers at the best time to fertilize."
In Rwanda, Cordaid works on improving the livelihood of poor farmers in a sustainable way. To be able to switch from subsistence farming to making an income from agriculture, farmers need to improve their farming methods and invest in better inputs. They need better seeds, fertilizers, and other inputs to increase their harvests. However, this requires finance, which they do not have.
Self-managed, self-serving
Most farmers in Rwanda do not have access to banks for financial services. For them, farmer savings groups provide an alternative. A farmer savings group is an informal self-managed group of farmers who organize saving and lending together. The members meet regularly to save money together, each member putting in a certain amount per week or month. When these farmers are part of a cooperative, these groups are still aligned and supervised by the Cooperative leadership. The group savings are used to provide group members with micro-loans at a modest interest rate. In the case of agriculture, it is used to purchase agricultural input for all the group members collectively. This way, the whole group benefits.
For the past four years, Cordaid has been training and supporting Rwandan farmers in setting up savings groups. The training built their financial capacities and other skills, like entrepreneurial skills, planning, group leadership, conflict management, and communication skills. As a group, farmers improved their bookkeeping, savings schemes, loan management, and working with financial institutions. For them, the challenge is not only to have money to buy seeds but also to have it at the right time, when the planting season starts. When the savings group does not have enough for this, a Micro Finance Institution (MFI) can help them out. Like CLECAM.
Josée: "After joining a farmer savings group and being trained, I got confident enough to approach the microfinance institution for an input loan. The CLECAM loan allowed me to get access to agricultural inputs on time. I could get seeds at the right time for planting, and fertilizers at the best time to fertilize the plants. As a result, my yields increased. On the same 20 acres, I now harvested 140 kg of maize, which is almost twice as much as before. With the increased income, I bought more land. Now, I have 80 acres."
Added value for women
Farmer savings groups consist of 10 to 20 members, both men and women. While these groups are helpful for male farmers, the added value for female farmers is even greater. "For women, getting a loan at a bank is virtually impossible", says Victoire Umutesi, Gender Advisor for Cordaid in Rwanda. "As land ownership titles are mostly for men in Rwanda, women rarely have any physical collateral. Also, the traditional division of tasks in agriculture, with women responsible for most of the planting and growing of the crops while men take the produce to the market to sell, does not give women access to the profit made. Women end up putting a lot of effort in agriculture without seeing any financial return", Victoire explains.
In the farmer savings groups, men and women have an equal say and equal access to finance and resources. And they equally share in the profits made. To stimulate this, Cordaid trains the savings groups in gender sensitivity. "For the women, participating in a savings group not only means equal opportunities, it also creates personal growth. They learn new things, are being listened to, and even take on leadership positions. It's empowering", says Victoire.
But the impact of these farmer savings groups does not stop at the individual level. Take Josée for example. She started organizing other women farmers, to form their own women's savings group. In this group, they save 1 USD per person per week, which helps them to get an additional group loan at CLECAM to purchase agricultural inputs together. The women support each other through household management advice, handling family issues, and small business planning.
Digitalisation
Working with savings, loans, and cash contributions can be challenging for farmer savings groups, as they tend to be far from banks. Without access to a bank account, it can be hard for the groups to monitor all transactions. A possible solution is digitalisation. Savings groups are being trained by Cordaid to use digital tools, like an online platform to document the group's cash flow and digitalization of the loan process. For the latter a pilot will start soon, to test efficient ways to organize this with a local telecom partner.
"In addition to buying more land, I have also started a business as a tailor, for extra income throughout the year. I am a businesswoman now, and my family prospers."
For the group members, these digital tools will offer easy access and transparency in how their savings are managed. And it is also helpful for the MFI that provided loans to the group because it gives insight into the group's ability to repay loans. This transparency builds trust, both within the groups and between the groups and the MFI.
Bridging the finance gap
To provide these trained savings groups with the additional finance they need, MFI CLECAM is now cooperating with PlusPlus.
PlusPlus aims to provide agricultural entrepreneurs in developing countries with access to the finance they need to grow their business, by connecting them to a crowd of investors in Europe. The growth of these agri-SMEs creates new jobs, generates more income for poor farmers, improves sustainable food production, and boosts the local economy. In short: it creates impact. Now, PlusPlus investors can also give Rwandan farmers a hand with a loan via CLECAM.
More than finance
Savings groups, their collaboration with MFIs like CLECAM, and the support of PlusPlus investors provide access to financing for those who otherwise would not have that. But it offers much more than just finance. It builds confidence, skills, and independence. Especially for women, who in the savings groups have a voice equal to men. They are heard. This impact goes beyond the savings groups, beyond financials. It affects their entire life. Abeza Josée is a clear example of that. "In addition to buying more land, I have also started a business as a tailor, for extra income throughout the year. I am a businesswoman now, and my family prospers. All from maize farming. My next plan is to expand from 80 acres to 1 hectare and to set up my own tailor shop", Josée says.
At PlusPlus you can now support these Rwandan farmers via a loan to CLECAM. Click here for more information about this project.