The 2022 Effective Development Co-operation Summit in Geneva wants to transform the way the development community actually works. Two Cordaid delegates will address global decision-makers at the summit. "Due to global crises, we have got used to the firefighting mode. We risk losing track of the long-term", says Izabella Toth, one of the speakers.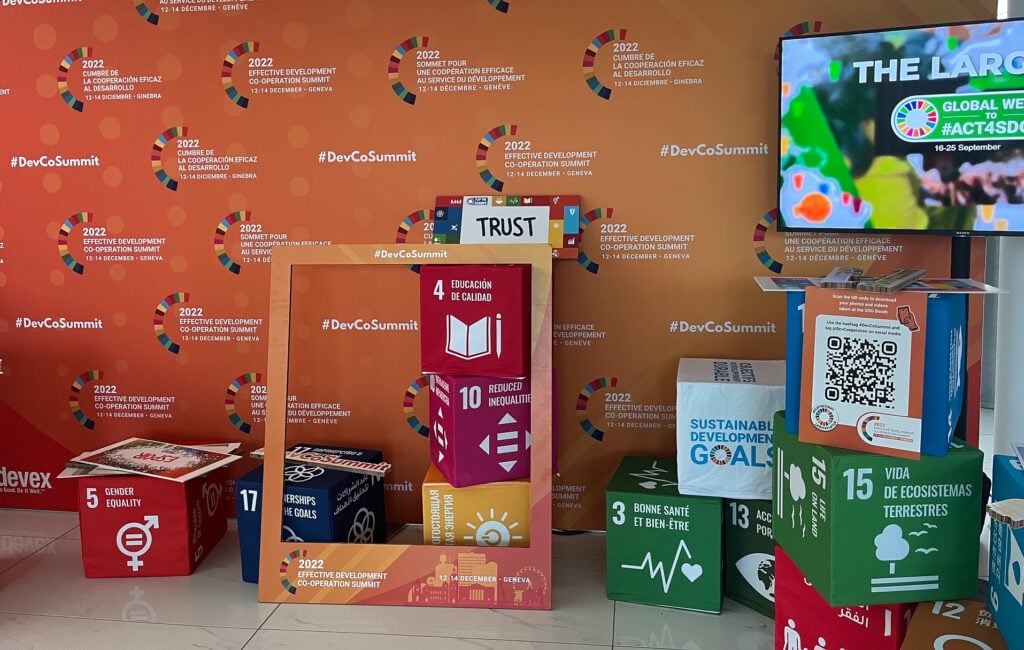 Climate shocks, the COVID pandemic, the energy crisis, war in Ukraine… When, in 2015, the global community agreed to achieve the Sustainable Development Goals by 2030, no one foresaw the headwinds the world is currently facing. Overlapping global crises increasingly undermine progress across all SDGs. In fact, the SDG financing gap is widening fast, especially in countries already furthest behind on the 2030 Agenda.
Meanwhile, as finance providers, implementing entities and partnerships have proliferated in the past decade, global aid architecture has become more and more complex and fragmented. This is becoming more problematic by the day in our partner countries and their societies.
"Trust is not a technical agenda matter. It is a matter of political will and leadership. And trust, in today's global turmoil, is what is most lacking."
How to engage more effectively in this fragmented development landscape? How to make the best use of limited resources? These are some of the questions global decision-makers will address during the 12-13 December summit in Geneva.
Effectiveness principles
Izabella Toth, Director of Institutional Funding and Donor Relations at Cordaid, is one of three speakers at the session that puts the spotlight on effective results frameworks. This session is co-organised with the OECD DAC, European Commission and the Governments of Malawi and Sierra Leone.
"The coming week must demonstrate whether the international community still finds the long term important. And whether we will learn from the firefighting of crisis situations to support concerted action for the future. I hope it will," she says.
"In 2011, the development community agreed upon four effectiveness principles . These are country ownership, focus on results, inclusive partnerships and transparency and mutual accountability. They are at the heart of Cordaid's strategy. More than ever, to support long term commitments, the debate in Geneva should be on the substance of these principles, and what they mean for countries and societies."
No progress without trust between citizens and governments
Mrs Toth is one of three panellists in the summit session called 'harmonised results frameworks at country level as leverage for sustained outcomes for the people'.
"In that session, I will stress that results frameworks of national governments, and multilateral and governmental donor agencies can only leverage sustainable change as long as they are based on coordination with citizens and civil society," she adds.
"To be meaningful, engagement with civil society has to go beyond tokenism."
"Mutual trust between citizens and their government is a fundamental necessity to be able to construct and implement collective action towards lasting SDG outcomes. And trust is not a technical agenda matter. It is a matter of political will and leadership. And trust, in today's global turmoil, is what is most lacking."
Inclusive dialogue in fragile countries
Peter van Sluijs, Cordaid senior strategist and coordinator of the Civil Society Platform for Peacebuilding and Statebuilding, represents civil society during a summit session that focuses on dialogue in fragile and conflict settings.
He will expand on the importance of inclusive dialogue between state and non-state actors in fragile countries. "It offers a constructive and sustainable way out of the vicious circles of fragility," van Sluijs argues.
Beyond tokenism
"Civil society's continuous inclusion in national dialogue processes ensures that the needs of different communities, including the most marginalized, can be translated into effective policies and action. To be meaningful, engagement with civil society has to go beyond tokenism. Only then can it contribute to national cohesion and to solutions to fragility and conflict. This is the key message I will be sharing in Geneva," he concludes.
The summit is organised by the Global Partnership for Effective Development Cooperation. The GPEDC wishes to improve the effectiveness of development co-operation partnerships as a critical enabler for the 2030 Agenda.
Read more about the Effective Development Co-operation Summit.