COVID-19 is shaking the world economy. To prevent unemployment, poverty, and food insecurity rates from further skyrocketing, Small and Medium-sized Enterprises (SMEs) around the globe can and should play a crucial role. Especially in low-income and conflict-affected countries. To do that, they need increased credit availability and other forms of support. This allows them, for example, to continue growing food crops and avert famines. To support small entrepreneurs in times of COVID-19, Cordaid created business continuity risk assessment tools and some helpful guidelines.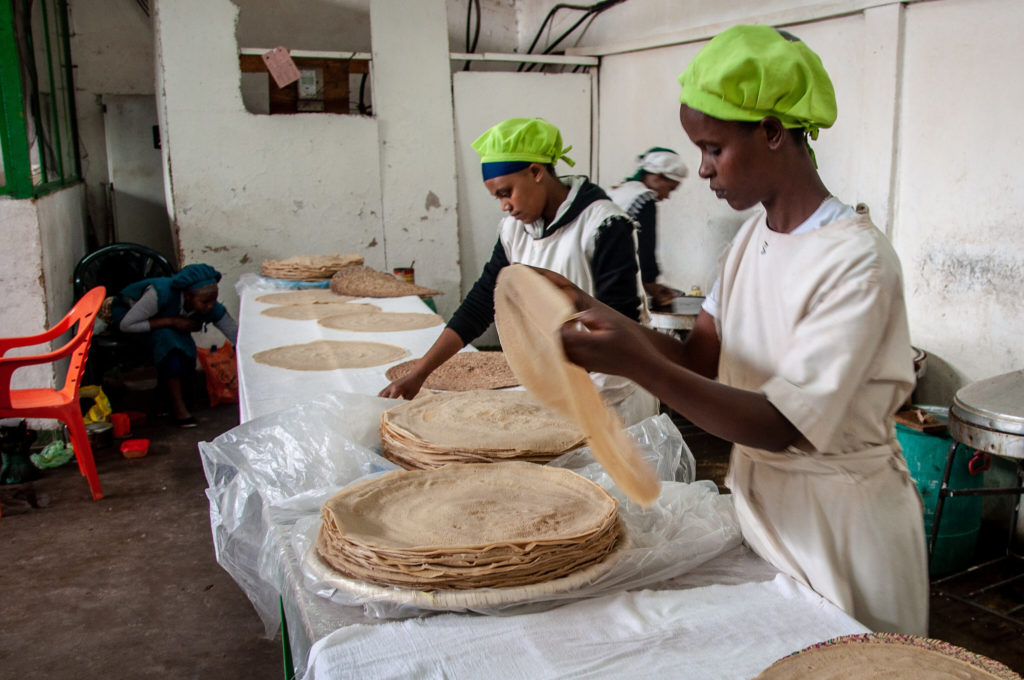 The recent fall in global stocks has been among the fastest in history. The Organisation for Economic Cooperation and Development (OECD) has approximately halved its global economic growth forecast for 2020 as a result of the COVID-19 outbreak. Against this context, as the OECD's Chief Economist, Laurence Boone states, it is important that we "ensure the health crisis does not turn into a financial crisis".
In fragile countries, this poses an extra challenge. An economic downturn may well push communities already impacted by poverty and food insecurity, and with limited economic diversity and low levels of investment, over the edge. Often, in fragile and conflict-affected settings, the state has limited ability to track and contain the spread of the virus, and to treat those affected by it. Should we see an expansion of coronavirus in fragile contexts, its impact on their economy might result in more severe complications.
Supporting SMEs with business continuity in these contexts can help to mitigate adverse effects upon food security and livelihoods.
THE VICIOUS CIRCLE OF MORE CONFLICT, UNEMPLOYMENT AND FOOD INSECURITY
In Afghanistan, Iraq, and Myanmar, coronavirus already poses a heightened risk due to porous borders with Iran and China. In Iraq, which has recently witnessed intense demonstrations of young people frustrated by the lack of economic opportunities, a worsening economic situation risks increasing violence. In Afghanistan, a rise in unemployment could threaten the already precarious political situation, fuel a breakdown in law and order, and exacerbate existing conflict.
Ethiopia, Uganda, and many other countries in North Africa and in the Middle East rely heavily on tourism industries. As international travel declined, job losses in the hospitality and tourism industries were being reported in these countries, even before they recorded their first cases of coronavirus.
In existing crisis areas, such as refugee camps, but also in rural, conflict-prone areas of South Sudan, the loss of livelihoods due to COVID-19, could push households into further food insecurity and lead to new humanitarian crises.
Food insecurity and towering food prices as a result of the coronavirus are a huge global concern. Already in Herat and Mazar in Afghanistan, prices of bread have rocketed. The price of wheat flour in Iraq is 50% higher than in January and almost 60% higher than in March 2019. The list of the world's countries most dependent on food imports reads like a list of the most fragile states on earth, with Afghanistan at the top. Due to border travel restrictions, these imports will be severely reduced, resulting in food shortages and significant price increases, leaving the most vulnerable households exposed to hunger and starvation as the crisis continues.
Reduced imports and subsequent price inflation will be compounded by a loss of livelihoods from unemployment as SMEs close, particularly in urban settings where people are more reliant on waged employment. The result may be that far more will die from COVID-induced hunger than from coronavirus itself.
SMES TAKE THE HARDEST BLOWS
In developing economies, SMEs make a significant contribution to local employment and to overall gross domestic product (GDP). An economic downturn due to COVID-19, to which SMEs are especially vulnerable, hits developing economies at the heart.
With generally small reserves and limited working capital, many SMEs rely upon a steady flow of continuous demand for their products and services. Many would struggle to survive a prolonged period of reduced economic activity. Being dependent upon a small group of staff, they are also more likely to be badly impacted by staff shortages due to illness or the need to look after the elderly or children who are unable to attend now-closed schools.
Furthermore, unlike in most developed economies, fragile states lack the apparatus and funds to help protect and buffer SMEs from economic shocks, and to provide social safety nets for those made unemployed. In countries like Afghanistan, Iraq, and Myanmar, the risk of SMEs becoming bankrupt over the coming weeks and months is high.
HOW CAN WE LIMIT THE ECONOMIC IMPACT OF CORONAVIRUS IN FRAGILE SETTINGS?
The goal of Cordaid's economic-oriented programmes is to strengthen entrepreneurial resilience in fragile settings. To support SME owners to sustain their businesses through economic challenges. Faced with the challenges posed by the coronavirus and with limited ability to access support, entrepreneurial communities in fragile settings will need our assistance in the coming months. The key to limiting the economic impact of coronavirus in fragility will be acting early to cushion the effect of an economic downturn upon SMEs and upon the acutely affected tourism and hospitality industries. It will be easier and more cost-effective to sustain existing businesses and livelihoods through the crisis than to rebuild new businesses once the crisis has passed. We believe this pre-emptive action to limit the economic crisis should comprise four pillars:
SME owners should be supported to prepare now – Entrepreneurs should take measures early to ensure their businesses have the resilience levels necessary to withstand an economic downturn or temporary closure. The visual below lists some of the actions SME owners can take.
Affected SMEs should be supported through an extended period of an economic downturn by increasing their liquidity – Efforts should be made to extend liquidity to Micro-Finance Institutes (MFIs) and to work with MFIs to in turn increase the availability of credit to small and affected businesses. This could take the form of tailored revolving loan funds established with MFIs to provide loans to affected SMEs to support them through the coming months. Funds will need to be channeled quickly to SMEs in need of support in fragile settings and SMEs should be supported in identifying and applying to appropriate funds.
Short-maturity crop production should be promoted to reduce food insecurity – Households should be supported in vegetable production through urban food kits and kitchen gardens.
A social safety net should be provided to persons made unemployed – Use of cash transfers to vulnerable and affected households to sustain them through the coming months until the economy has revived and employment is available.
IN THE LONGER TERM…
Efforts should be made to boost inclusive economic growth as the health epidemic ebbs – Interventions should promote rapid economic recovery so as to limit the long-term impact. These could include support to SMEs to accelerate growth through business development support and increasing access to finance and markets to create employment.
This combined response should increase the resilience of SMEs to the economic shocks created by the Coronavirus, sustain affected households through the economic downturn reducing social damage, and accelerate the revival of the economy once health impacts have passed.
BUSINESS CONTINUITY AND RISK ASSESSMENT TOOL FOR THE SMES
To support the business continuity of SMEs in fragile and conflict-affected settings, Cordaid developed new tools for entrepreneurs to self-assess their risk exposure to Covid-19. These tools can be downloaded here: