Natural beauty and cultural treasures have been attracting visitors from all over the world to Myanmar in recent years. Yet a large number of people there still struggle with major challenges due to conflict, natural disasters and poverty. Cordaid supports microfinance institutions in Myanmar and helps thousands of underserved rural families survive and create a better future.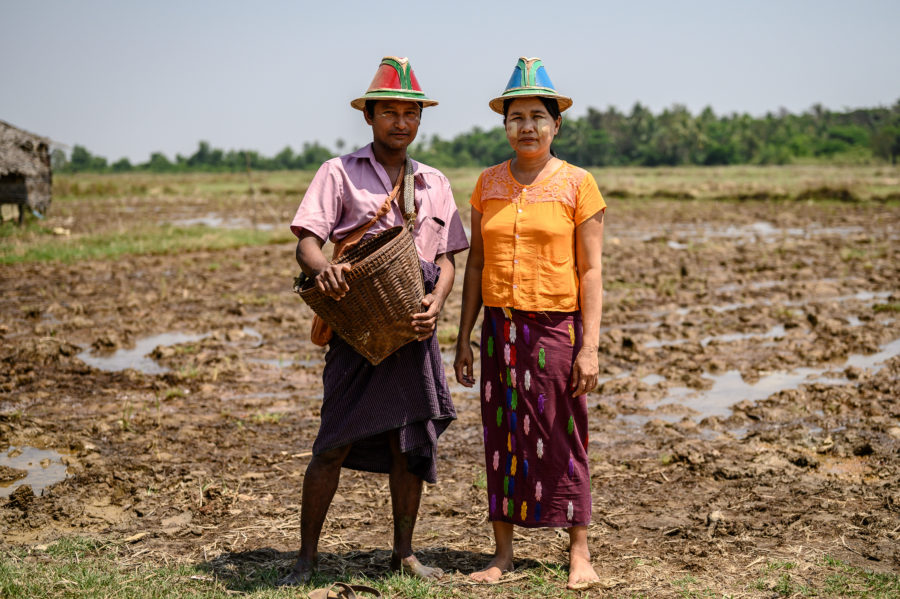 With a stern look in her eyes, Aye Aye Thwin urges her daughter to sit by her. It is hot and humid in the family's wooden hut, but mother and daughter still snuggle up when Aye Aye starts telling about that horrific day in May 2008.
Cyclone Nargis
They still remember it like it was yesterday. Just like everyone else in the Irawaddy Delta who survived the disaster. Cyclone Nargis destroyed nearly everything in its path, resulting in tens of thousands of deaths.
Houses were swept away, land became unusable, infrastructure got destroyed and lives were ruined: Nargis had hit the farmers in southern Myanmar like nothing had ever before. Many of them still haven't fully recovered from this traumatic experience.
When you survive a disaster of such magnitude, how do you pick up the pieces of your life again? Where do you even start?
"We were desperate," says 45-year-old Aye Aye Thwin. She lives in the Irawaddy Delta, together with her husband Son Noing and their 14-year-old daughter. The family generates income by growing rice and selling food to the villagers.
"After the cyclone, we wanted to reconstruct our business as quickly as possible. That's why we started borrowing money from a person who turned out to be a loan shark. The interest rates were so high that we had no money left to sustain ourselves."
Proximity Finance
To break this cycle of poverty, aid organizations decided to step up. In 2004, Proximity Designs was launched with a commitment to creating a social business for Myanmar's underserved rural families. After the destruction of Nargis, they established a new branch to provide microloans: Proximity Finance. Cordaid supports farmers in Myanmar through Proximity Finance and other microfinance institutions.
"With microloans, we help the poor and vulnerable population and by doing this, we help the country advance."

Aye Pyae Sone Tun, Proximity Finance
With loans of between US $ 200 and $ 600 per crop cycle, farmers can purchase important items such as seeds and equipment, as well as cover other costs such as medical bill or school supplies for the children.
Progress
"With microloans, we help the poor and vulnerable population and by doing this, we help the country advance," says Aye Pyae Sone Tun, assistant operational manager at Proximity Finance. "The loans have established a formal financial structure in the region. Previously there were major problems with the loan sharks. When people weren't able to pay the loans back with high interest rates, their farmland would be taken from them. This caused extreme poverty and many families became homeless."
In addition to much lower interest rates, Proximity Finance offers its clients extra support, like training courses to learn how to farm more efficiently. This helps the farmers to increase their harvests and increase their income.
Aye Pyae Sone Tun: "Thanks to the commitment of our local loan officers to the clients, the farmers can grow their businesses again. This helps the entire region to successfully progress."
Climate change
In an area where basic services are lacking, the population is extra vulnerable to unforeseen events. Unfortunately, Myanmar happens to be one of the countries most affected by climate change. Farmers can no longer count on the predictability of the monsoon. And when it does rain, it rains so hard there often is a great risk of flooding.
"There have been many floods lately and it is raining so irregularly that many farmers are losing their income."

Aye Pyae Sone Tun, Proximity Finance
In the so-called Dry Zone, the middle region of the country, people live safely outside the usual trajectory of the cyclones. That doesn't mean life there is easier. People in the Dry Zone have to battle the Irawaddy River, which regularly floods and engulfs entire villages and precious farmland.
"Ten years ago the climate in Myanmar was still very predictable," says Aye Pyae Sone Tun. "But there have been many floods lately and it is raining so irregularly, in the dry region in particular, that many farmers are losing their income."
More resilient
With the loans from Proximity Finance, families like Aye Aye Thwin and Son Noing have become a lot more resilient to unexpected setbacks. With fewer worries, they can cultivate their rice fields and create their livelihood.
Microloan clients with a knack for entrepreneurship can also seize the opportunity to grow their business. With her loan, Aye Aye Thwin has purchased food items which she now sells in her small shop and managed to double her monthly income. This way, the family is not just surviving but also making concrete steps towards a better future.
Aye Aye Thwin: "Because we were able to pay for an education for our eldest son, he now has a job in the capital and he is able to support his family financially. We are very proud of him."
Myanmar is bursting with hope and promising progress. Many know that smart investments in a new generation can lead to a brighter future. However, there are still many challenges to overcome and rural families in this beautiful country can use all the support they can get to leave poverty behind once and for all.