Because of different onion seeds and better farmers' organisations the market prices for onions in Uganda have increased. In addition, fewer onions are lost post-harvest. Young farmers can now build a better future for themselves, thanks to the help of Cordaid and partner VECO East Africa.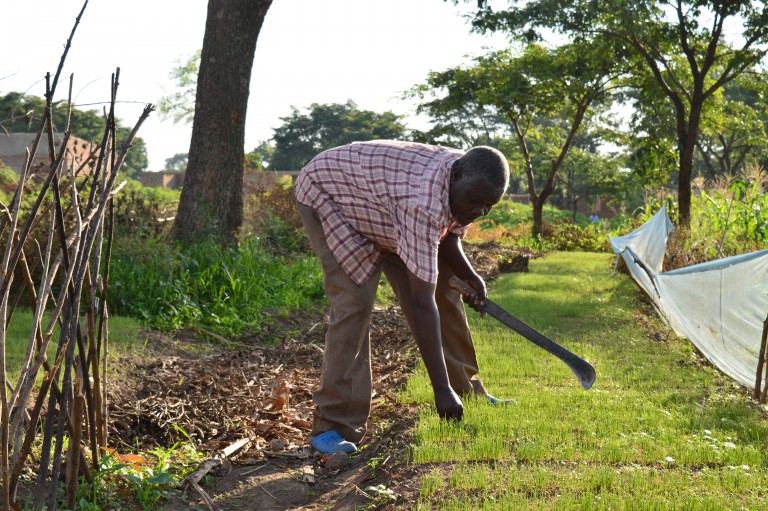 Onions are a traditional crop for Ugandan farmers. But for a long time, those farmers could hardly live off their yield. Now change has come, due to a project by VECO East Africa, supported by Cordaid.
During a monitoring visit our program officer Marja Rijerse spoke with the farmers. She wanted to find out more about how they worked and how their cooperatives were organized.
Better income for young farmers
One of these farmers is Augustine Okware. He has been an onion farmer throughout his life. He takes pride in his work and happily sacrifices a part of his land to an onion nursery, in which new varieties of onion are being tested. "High quality seedlings can make a big difference in the yield of a harvest. This way I can help other, younger farmers with getting a decent income," Augustine explains. "Then they won't end up on the streets."
High quality seedlings can make a big difference in the yield of a harvest
Fewer post-harvest losses
"We used to grow a variety of onions called 'red bombay'. VECO suggested to switch to the 'red creole' type. Once harvested, these onions last much longer than the previous type", explains Patrick Paddy, another farmer. "It took some time to convince us, because the seeds of red creole onions are more expensive. But the results speak for themselves!"
Apart from using the new onion seed, the farmers have organised themselves much better. Collective marketing and group purchases reduced transaction costs significantly. They are also starting negotiations with retailers including supermarket chains. As a group, they stand stronger than ever, and they are motivated to keep on improving.
"Slowly but surely we are creating a better future for ourselves", Patrick Paddy smiles.
Agriculture becomes 'fancier'
Marja looks back to a positive experience: "By using special seeds with higher yields, agriculture is becoming fancier and more attractive to youth. And it's youth who hold the future of Uganda."
This article is based on an article by Vredeseilanden.