The truth is out and it is as inconvenient and frightening as many expected it would be. The report released by the Intergovernmental Panel on Climate Change (IPCC) this week about the effects of climate change and the undeniable role humanity has played in the rising global temperature, shook the world. But a large part of the world had already been shaken. Hard.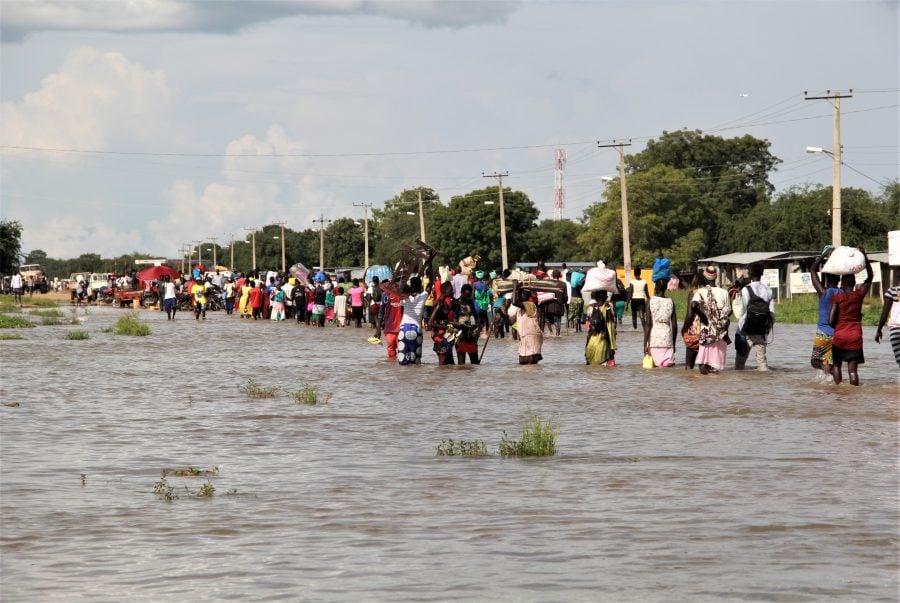 As Margot Loof, climate resilience expert at Cordaid, noted: "Rightfully worried – or in some cases even terrified – about the urgent IPCC message, many countries immediately started looking inwards."
What does this mean for us?
As we know, countries are a people's invention. And people are represented by politicians. And they are now asking questions like: what does this mean for us? What must we do to protect ourselves? How can we survive?
Weather patterns have drastically changed over the years, resulting in unprecedented and extreme downpours.
Margot Loof: "While thinking about ways to mitigate this looming disaster, we tend to overlook the fact that many – underrepresented – people in the world are already facing the consequences of climate change in full effect."
This is also the cruel and unjust reality of South Sudan.
"In 2020 and 2021, South Sudan experienced the worst floods since the 1960s. The elderly among the displaced people in the affected areas say these floods are worse than what they have experienced ever before. Weather patterns have drastically changed over the years, resulting in unprecedented and extreme downpours."
These are the words of Enkas Chau, resilience and humanitarian aid program manager for Cordaid in disaster-struck South Sudan. Chau is our eyes and ears on the ground, in a war-torn nation that is ranked amongst the world's five most vulnerable countries in the world, with a severely limited capacity of its citizens and government to cope with climate-related catastrophes.
-> Read more: One million people affected by Nile River floods: "This is what climate change looks like."
7.2 milion people in danger
With a deforestation rate of 1 to 2 % per year, by 2060 South Sudan will have a 1-degree increase in temperature, leading to a 20% decrease in rainfall. Climate change is also hampering access to water and land, threatening the availability of food and the livelihoods of 7.2 million people.
Most South Sudanese rely heavily on high-carbon emission energy for their everyday needs. Diesel generators provide electricity in off-grid areas and charcoal and wood cook their food, which all contributes to the devastating emission of carbon dioxide. At the same time, deforestation and illegal logging limit the carbon storage capacity of the environment.
Climate change is also exacerbating poverty levels by causing more extreme weather patterns, adding intensity to recurrent hazards, such as floods and droughts, and limiting people's agricultural and economic capacity.
Combatting climate change by 2030
South Sudan has a National Adaptation Programme of Action (NAPA) in place, in which the country expresses a strong commitment to combatting climate change towards 2030, by increasing the use of carbon-neutral energy and biomass and declare 20% of its natural forests as reserves.
Let's focus on the priorities, in places where lives are already at risk, and respond to the climate emergency.
Unfortunately, the government's attempts to reach these goals have been constrained by a lack of funding and competing priorities. We can help. Cordaid's experience on climate change adaptation has led to a number of successful initiatives in South Sudan. Some concrete examples: we support the production of energy-saving stoves and we have set up effective farming cooperatives as part of a five-year agri-business project.
Furthermore, we promote good governance on environmental measures, advocating to local authorities to protect their forests, while reducing the demand for charcoal and firewood.
Through another advocacy programme, we have seen a growing commitment towards banning illegal logging. In the areas that are most vulnerable to climate change, we support and advocate for the adoption of climate-resilient livelihood solutions.
Respond to the climate emergency
Things are being done, but there are so many more hurdles we need to take. South Sudan is only one example, as one of the countries that need our most urgent attention. Let's focus on the priorities, in places where lives are already at risk, and respond to the climate emergency.
Together we can take action to support people in developing countries to adapt to climate change and to reduce further global warming.