Water scarcity is a critical problem on the Philippine island of Kinatarcan. In partnership with the local community, Cordaid helps to find durable, low-cost solutions for the island's water problem.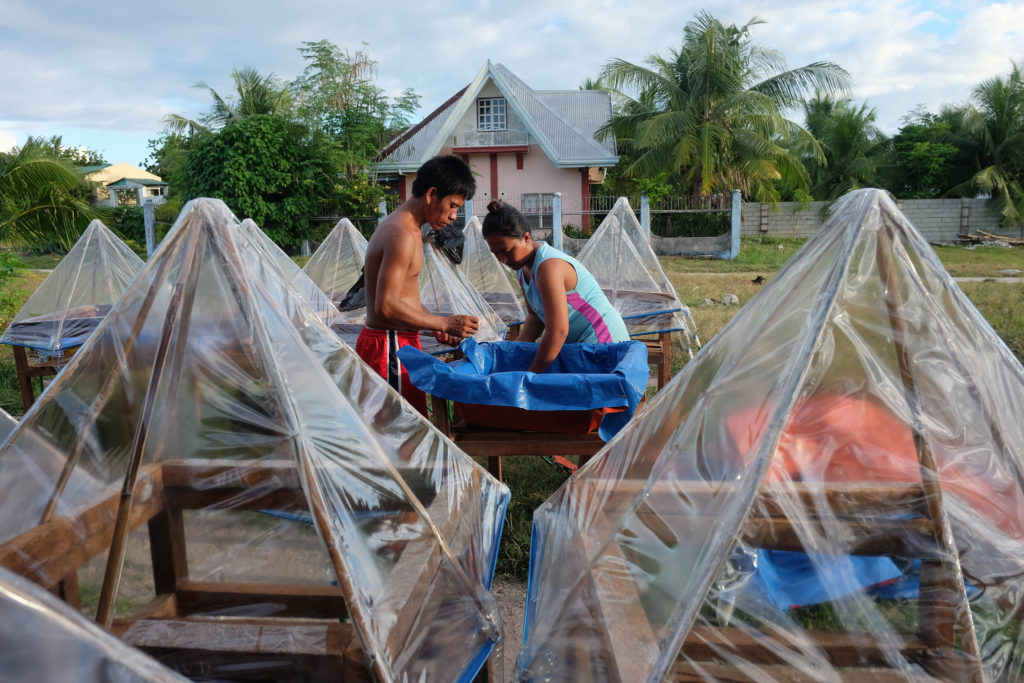 Resilience-building after super-typhoon Haiyan
Kinatarcan, in the northernmost tip of Cebu province, was one of the most devastated areas after super-typhoon Haiyan swept across the country in 2013. The population has managed to re-establish their lives but found little support to increase their resilience and reduce risks on the longer term.
And risks there are. Apart from typhoons, Kinatarcan is increasingly exposed to drought, high winds, and salinisation. This seriously impacts their safety, food security, and livelihood options. Of the 9000 inhabitants, almost 7000 people ,totally depend on rainwater for drinking, washing, and agriculture during the dry season (5 months a year). Only a quarter of the population has access to well water, which, on top, is increasingly salty as sea water enters the wells.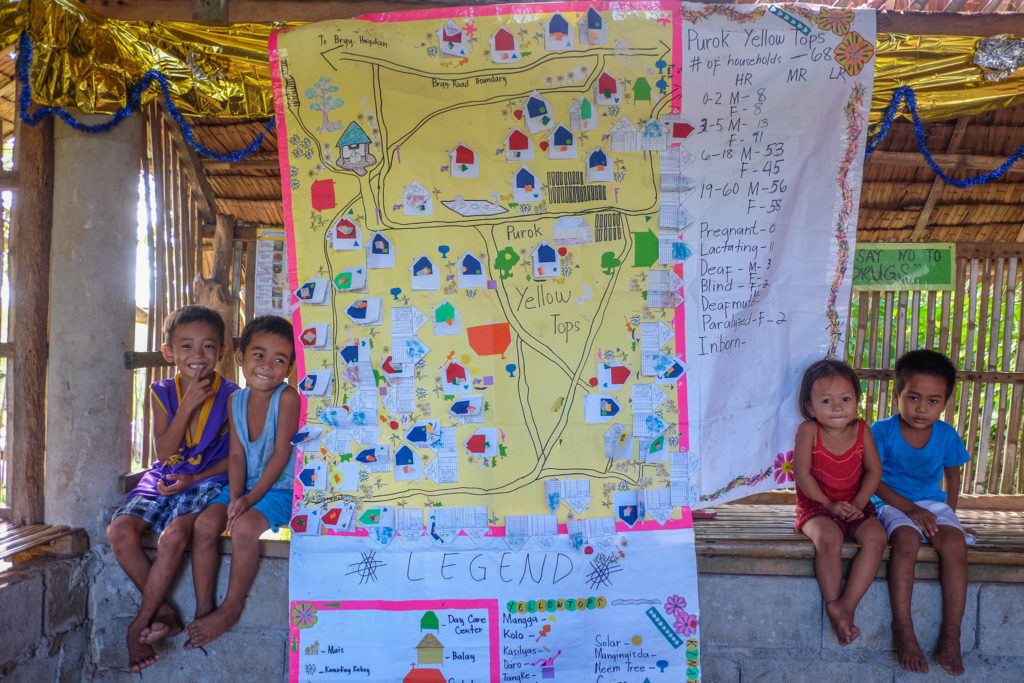 As water wells run dry or become saline and contaminated, buying potable water from a neighbouring island is the only option for many on the island. To make things worse, large-scale commercial fishing has damaged coral reefs and reduced the fish stocks on which local families have been dependent for generations.
To address these multiple risks and increase Kinatarcan's resilience, Cordaid partnered with the island community, the municipal and provincial authorities, and with Caritas Singapore. Together, we helped to establish
a 94.000 litres of water storage for household and community use;
a 31.000 litres water storage for agricultural use;
This storage infrastructure addresses the immediate water needs of the entire island community.
The desalinator and other durable solutions
But Cordaid's integrated risk management approach means that we are searching for solutions that help overcome and mitigate future hazards. Thus, by planting trees we are improving rainwater entrance in the soil and helping to refill wells.
And in areas where surface and groundwater is salinised, we train communities in building and using desalinators. This is a simple and cheap evaporation method to separate salt and water.  One desalinator allows poor families, living in the driest part of the island, to 'harvest' up to 3 litres of potable water a day. The simple construction is both a water harvester and a salt extractor at the same time.
"I was so surprised the water did not taste salty. I couldn't believe it came from the sea."
Dodo Hijapon was one of the first residents trained to construct and maintain pyramid-shaped desalinators. And for the past months, he has been teaching others to do the same. "Anyone can build a desalinator for less than 500 pesos (8 €). It's simple and materials are available locally", he explains. "If it's raining it collects water. If it's not raining you just put sea water in and the sun will separate water from salt. You can use the salt for cooking."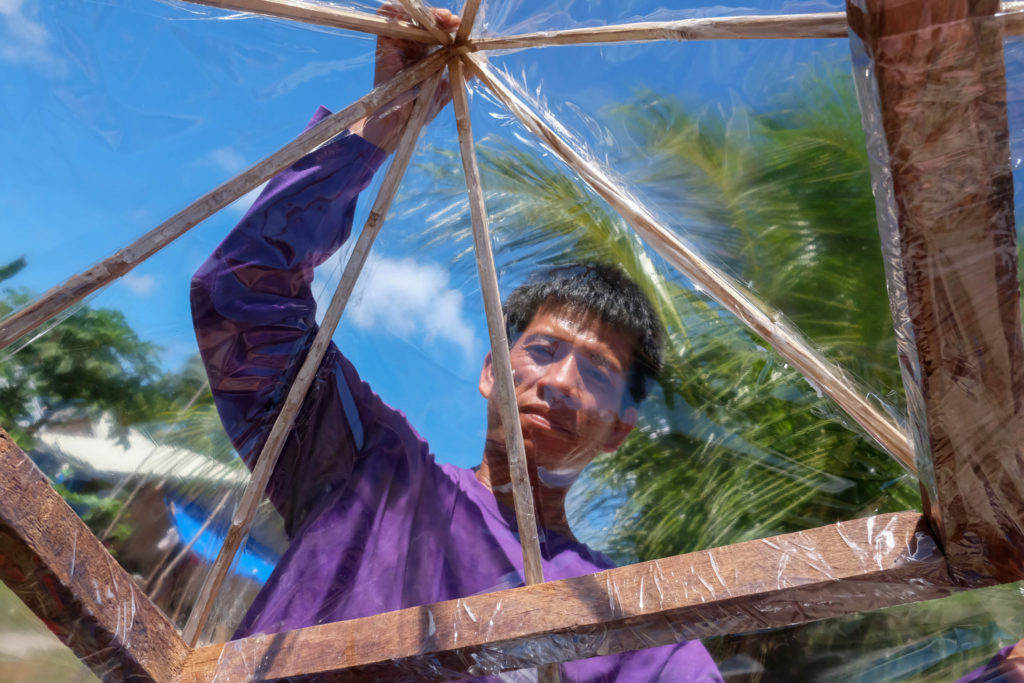 By the end of 2017, Dodo had constructed 75 desalinators, which he distributed among the households with the least access to water on the island.
"After Cordaid trained us we saw how easy it was to grow vegetables."
Teresa Goudines, one of the farmers who is using the desalinator for garden farming purposes: "I was so surprised the water did not taste salty. I couldn't believe it came from the sea." Teresa is unable to use water that is piped to her house, as it is too salty and would damage plants.
Crop diversification creates alternative livelihood options
To further increase Kinatarcan's resilience against water scarcity, drought, salinisation, typhoons, and other hazards that come with climate change, Cordaid supports a host of other measures on the island:
the use of other low-cost low technology rainwater harvesting techniques, like mini-dams made of elevated tarpaulins;
improvement of farming and irrigation techniques (like using plastic mulch to protect the soil and reduce evaporation or drip irrigation for efficient watering);
the construction of a water catchment dam by students of Kinatarcan National High School, which catches up to 1000 litres to irrigate vegetable gardens of the school;
the cleaning and maintenance of a 31.000 litre water tank of the same school;
promoting crop diversification and ecological farming techniques.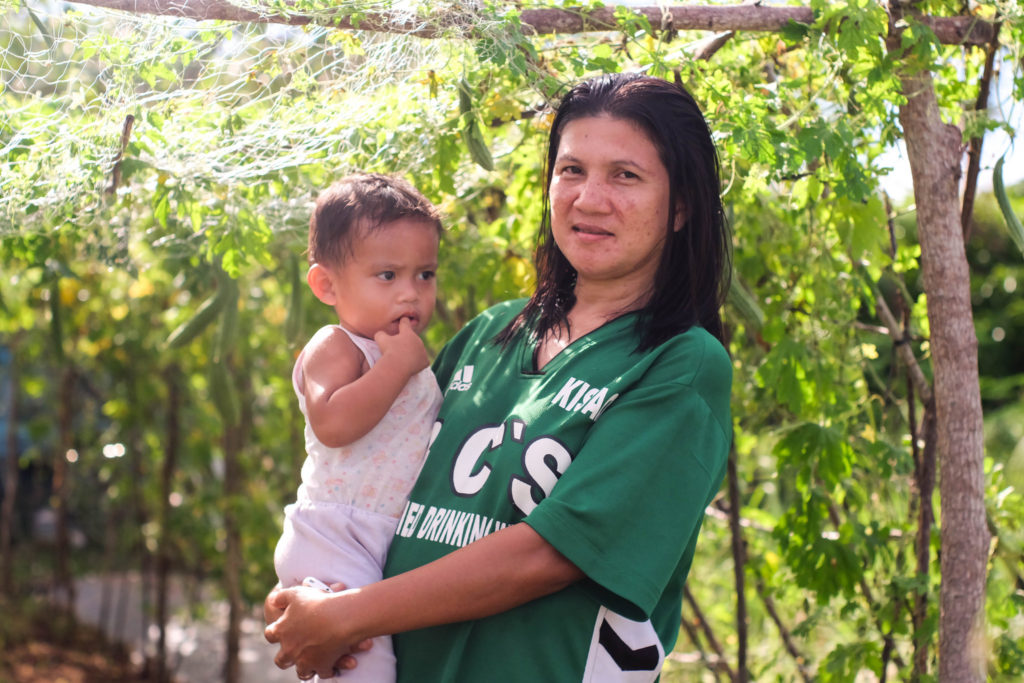 Crop diversification and new farming techniques are crucial for many farming families. It increases their livelihood options. But even prior to that, it gives them the courage to pick up farming again after Haiyan. "Farmers of Kinatarcan, like myself, were discouraged to plant after typhoon Haiyan destroyed our farms and plots", says Belinda Placensia, who is also a sari-sari or small shop owner. "After Cordaid trained us in new farming methods we saw with our own eyes how easy it was to grow vegetables. And we were hopeful again and encouraged.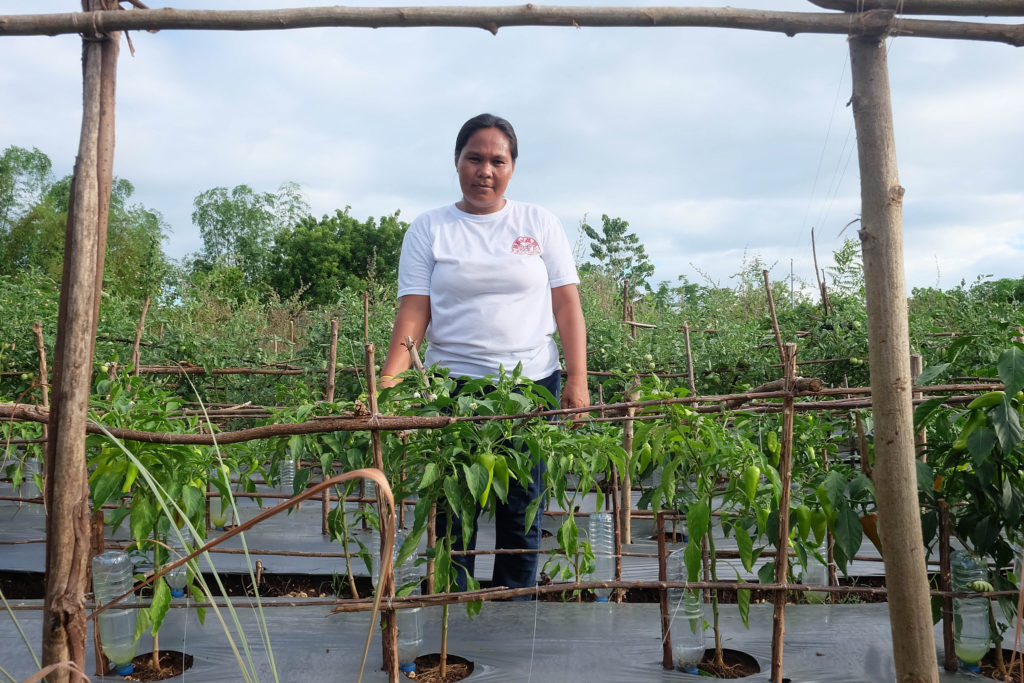 Teresa Goudines echoes this. "All we knew before was how to plant and harvest cassava, which is the main crop we eat. We would just plant it and leave it alone", she says.
Even though they are a staple crop, cassava plants deplete the soil of nutrients and reduce soil fertility, resulting in poor harvests. To offset this, Cordaid works with the municipal agriculture office to encourage farmers to grow other crops, like mung beans, in between the rows of cassava.
"Thanks to Cordaid we now have gardens with many different vegetables", Teresa continues. "We grow them for ourselves and even manage to sell some and earn extra income." In the past month alone Teresa sold 5000 pesos (100 €) worth of bell peppers. She used the money to cover the school costs of her children.
Changing lives, by building on local resources and knowledge
So far, Cordaid's support in Kinatarcan has increased the resilience and changed the lives of 300 families and a school community. By building on local resources and knowledge, we have strengthened their capacities to assess and adapt to disaster risks. They are now producing climate-resilient crops, have better market access, and established low-cost water harvesting systems. As such Kinatarcan is an example of Cordaid integrated risk management approach to resilience-building.
Since 2021 Cordaid is no longer operational in The Philippines