Women's movements are a powerful medium to foster long lasting peace. In Eswatini, one of the world's last absolute monarchies, women's organisations are striving to promote human rights and women's participation in a peace process. Since mid-2021, the country is rocked by protests calling for greater levels of democracy. "We cannot lose the momentum as a women's movement", explains Women Unlimited, a women's organisation supported by Cordaid.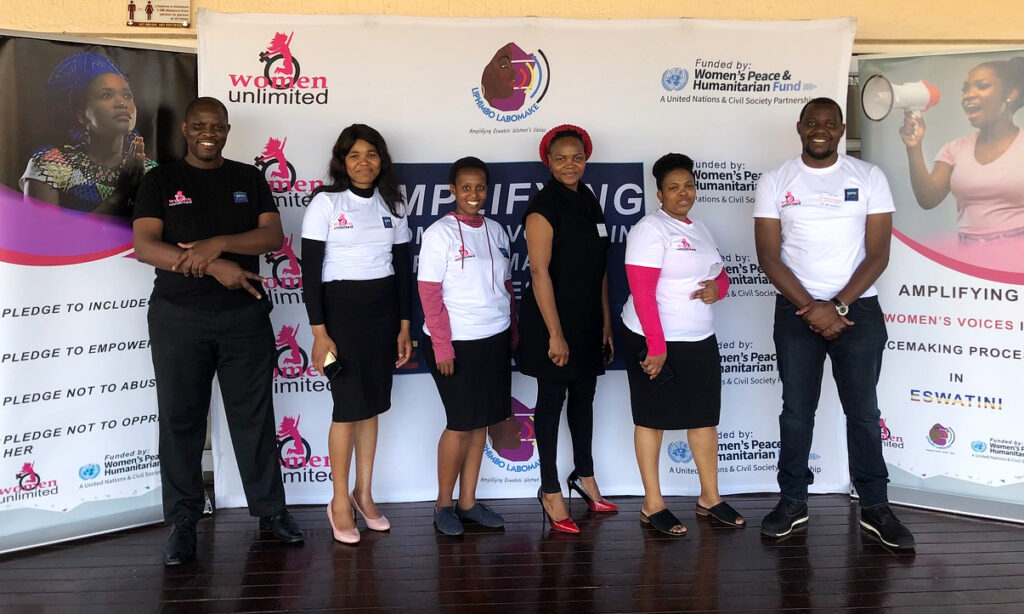 Across the world, "there are very interesting examples on the positive contributions women have made to peace processes, from the DRC [Democratic Republic of the Congo], to Rwanda, Brazil and South Sudan", explains Vimbai Kapurura, Executive Director of Women Unlimited Eswatini.
Women Unlimited runs a programme that aims to mobilise and unite the voice of women's organisations in Eswatini (formerly known as Swaziland). They do so by strengthening the negotiation skills of human rights defenders to ensure women's voices are represented in decision-making. So far, the programme reached over 30 civil society organisations, 10 communities and 225 women leaders with negotiation and political engagement trainings. Using community radio, printed education material and trainings on political engagement, a total of 7,473 people were reached. They also raise awareness about gender equity across all four regions of the country and reached 59,303 people via a social media and media campaign.
Activism under an autocratic regime
The story cannot start without talking first about the context of Eswatini. The Kingdom of Eswatini is an absolute monarchy, meaning the king exercises absolute power over all aspects of government. He appoints the prime minister and cabinet, and can dissolve parliament to his own discretion.
"To say that the democratic space is restricted is an understatement", says Andrew Chapfika, Programmes Manager at Women Unlimited. "People have been calling for a transition to a more democratic system for a long time. And 2021 marked a turning point. Eswatini was in crisis, with very low quality of life affecting most of the population and the world's highest rate of HIV. We also saw a lot of reports of human rights violations in the political and public space."
"On paper there are policies on gender equity. But the reality is very different."
In June of 2021, amid ongoing protest denouncing police brutality, the government banned the right to protest and to petition. As citizens took to the streets in defence of basic democratic rights, the state police responded with violent crackdowns on protesters. Civil unrest followed, and by October 2021, the death toll rose to over 80 protesters according to Amnesty International. Pro-democratic members of parliament were imprisoned or forced to take exile abroad. "We saw a lot of state violence against activists and women human rights defenders too and need more resources to protect them", says Andrew.
Protests have continued throughout 2022. While the country is not yet declared as a state in conflict, the UN Secretary-General, along with several international human rights organisations, have been calling for "an inclusive and meaningful dialogue" to ensure "a peaceful resolution" to the current crisis. The Swazi government is yet to announce and invite key stakeholders to a formal national dialogue.
Advancing women's activism
"In any given crisis, women and girls often pay the highest price. And Eswatini is not the exception. It is important to involve them in decision-making to ensure a just future. That is why we seek to mobilise women to ensure that they are involved in any future national peace dialogue", Vimbai says.
Advancing women's rights under an absolute monarchy is challenging. "There are no formal avenues for women to defend their rights", Andrew explains. "On paper there are policies on gender equity. But the reality is very different."
Eswatini has two legal systems working in parallel. Besides Roman Dutch law, there is the traditional Swazi customary law "which can be very oppressive to women and girls", he continues.
"According to old Swazi customs, women in a marital relationship are treated as minors under the care of their husband or male relatives. They cannot own property without the signature of their husband or first-born son. Under these customs, a woman does not have rights to divorce the husband under any circumstance, but the husband is allowed to divorce the woman on allegations of witchcraft or if she has committed adultery."
This dual legal system enables leaders at different level to refer to the law that gives them an advantage depending on circumstances.
"If we want to seize the opportunity to have a peace dialogue in Eswatini that involves women and girls, that moment is now."
"When we engage the government, they show willingness to engage with women in peace processes", Andrew recalls. "This is largely because they have made commitments on gender equality within the UN and the Southern African Development Community among other international bodies. However, when we meet with traditional leaders at the community level, they might say no to engaging with women because women should not be leading men's meetings. They are then referring to Swazi customary law which gives them power over all, as they are by implication saying this is what the monarch would endorse."
"In that context it is extremely challenging to bring women into the civic and democratic space, and into positions of power", Vimbai concludes.
"There is strength in a united voice"
Under such circumstances, bringing women into the political space requires unity and solidarity. "There is a lot of power in one united voice coming from various civil society organisations", continues Vimbai. "You cannot achieve peace alone, as a sole organisation. You have to work with many organisations and with communities to ensure that you have a strong voice together."
In this programme, Women Unlimited works with a coalition of women's organisations called Liphimbo LaboMake (meaning Women's Voice in Swati). They also work with organisations representing women's rights, men's groups and gender minorities. Working closely with communities across the country, Women Unlimited raises awareness about gender equity and collects community voices to inform their advocacy messages.
"Over the past six months, we have managed to develop a strong network of women's organisations and to establish a recognised women's movement", says Andrew, "we have also succeeded in developing ties with the government's gender department. If we want to seize the opportunity to have a peace dialogue in Eswatini that involves women and girls, that moment is now."
"We shouldn't wait for the situation to escalate"
Formally speaking, Eswatini is not yet recognised as a country in conflict by the United Nations and the international community. And as a result, the funding available to Eswatini programmes that seek to ensure an inclusive peace process, like the one of Women Unlimited, is scarce.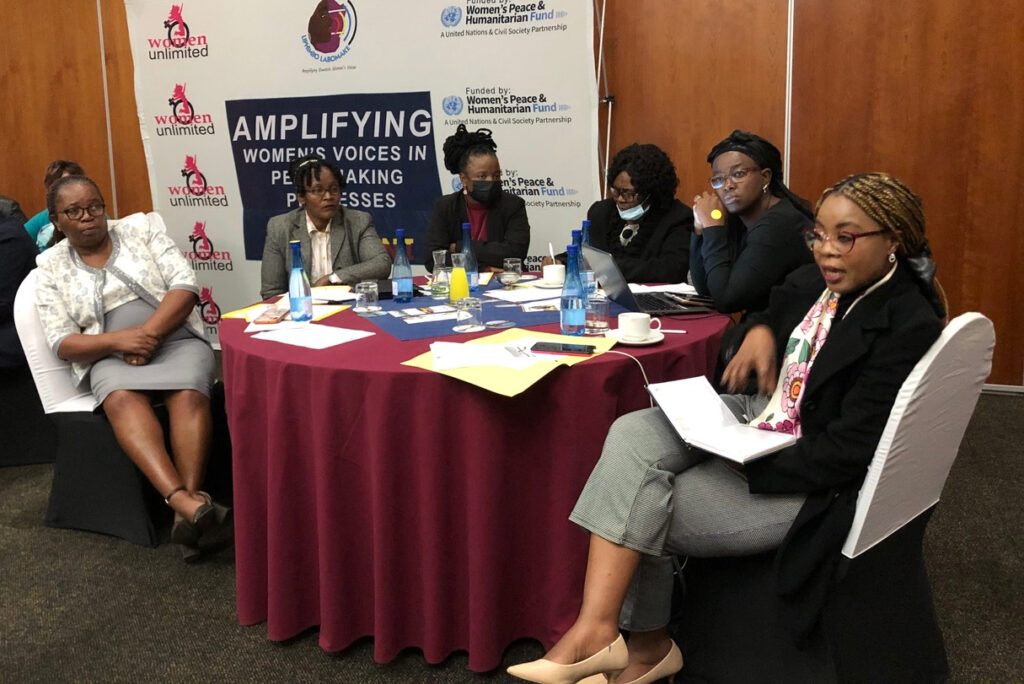 "Not recognising Eswatini as a country in conflict, or as one going through a peace process, is allowing the situation to deteriorate", Andrew says. "Our message is that we should not wait for the situation to deteriorate until it fits a certain description [of conflict]. We should be acting now while the situation is still manageable. Once the situation blows out of proportion, it will be very difficult for women's movement to operate. And it will be more dangerous for human rights defenders to speak out."
The opportunity for change is now
Women Unlimited described the progress of women's activism as being "an adrenaline rush". This programme aiming to mobilise and organise women's voices is the first of its kind in Eswatini.
"Women's movement can foster many positive results for the community as a whole. We are sitting on momentum and opportunity right now" Vimbai tells us. "And there is very little time to seize such an opportunity. We must continue strengthening the women's movement so that we are organised and ready to hold a peace dialogue with our government."
There can be no long-lasting peace as long as women have their basic human rights denied. By supporting women's movements in Eswatini, the international community can keep the momentum for an inclusive peace process alive.
Women Unlimited's programme is made possible by the UN's Women's Peace & Humanitarian Fund, with the technical support of Cordaid. This Fund enables Cordaid to work with women's organisation involved in peace processes in South Sudan, the DRC, and Eswatini.
This article was written by Adriana Parejo Pagador