In Uganda, Cordaid supports 700 young entrepreneurs in an agribusiness programme called Futuremakers. In partnership with Youth Business International (YBI), Cordaid provides the participants with business development services, mentorship support, access to finance and other specialised services. This is the story of one of them: 21-year-old Betty Wangoich.
In Zombo, one of the three districts in Uganda where the business development programme project is being carried out, coffee and banana plantations lushly cover the rolling lands. The dusty road snakes over the hills and ushers into a small trading centre in Malara village, where we meet Betty.
Finding a way into the local economy
"During the COVID-19 pandemic, I got pregnant and dropped out of school. I was so worried. I started making food and served it to locals in the streets. That is how I learnt to cook well. It's not easy, having a baby when you're only 18. I advise all young girls: make sure you don't get pregnant at such a young age. I faced so many challenges."
"I realised that coffee is the answer to many things."
Malara is a coffee farming community. The business skills training organised by Cordaid Uganda supported Betty in finding her way into the local economy.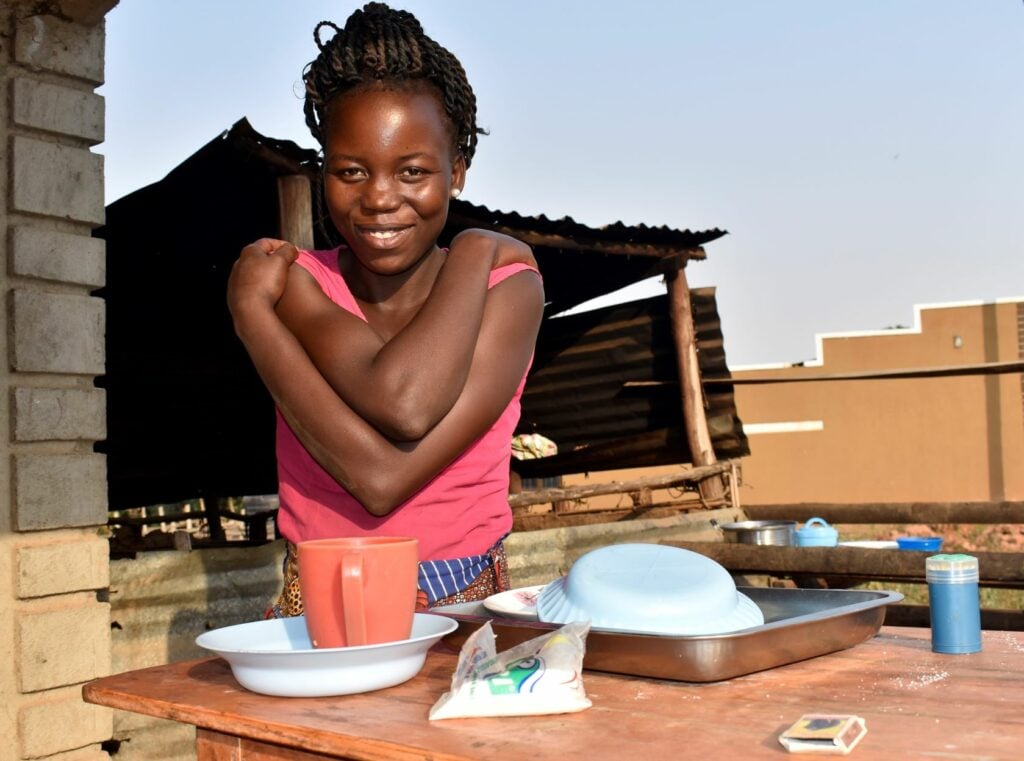 Mixed farming
"I joined the coffee business last year and I received some good information from the Cordaid trainers about the coffee value chain and how it can benefit me. I realised that coffee is the answer to many things. I have been growing it for one and a half years now. I have 700 plants, and I'm still planting more.
I also learned, however, that you shouldn't solely depend on one crop. During the training, we were encouraged to start mixed farming. By growing bananas as well, for example, we can address our food demands, as the coffee crops take time to mature."
A sustainable solution
Although Betty still cherishes the dream of returning to school, she says it will be a difficult dream to fulfil. "I'm the last born. My sisters are already in school and paying their fees has not been easy for my father. He told me we first need to give my sisters a chance to finish."
Thankfully, in the meantime, the coffee farm provides a sustainable and long-term solution for Betty and her son. She hopes that by the time he turns 13, her business will be successful enough to finance his education and even support her family.