The Mbagara Cooperative Society in Kakamega, Kenya, is a farmer cooperative that provides jobs, socially empowers women, and finds solutions to the pressing issues of its members. The cooperative's results serve as a testament to the power of continuous learning and the importance of incorporating feedback into development approaches.
Mbagara was established in 1975 and initially focused on aggregating maize and milk. Over time, they expanded their activities to include cereal, short-term storage, and finding favourable markets for their produce. They have also been offering valuable services to smallholder farmers, allowing access to farm inputs on credit and in instalments.
It has, however, not always been an upward journey for Mbagara. In 1984, the cooperative collapsed due to poor management and the absence of a sustainability plan. Critics primarily attributed the mismanagement to the dominance of elderly men in leadership roles. 
New lease of life
Many years later, in 2018, the Kenya Cereals Enhancement Programme gave the cooperative a new lease of life and since then, Mbagara has made remarkable progress.
"We discovered that farmers could not get proper value for their products because middlemen would exploit them", explains Felix Wanjala, Vice-Secretary of Mbagara. "If you sell your products collectively, you have bargaining power."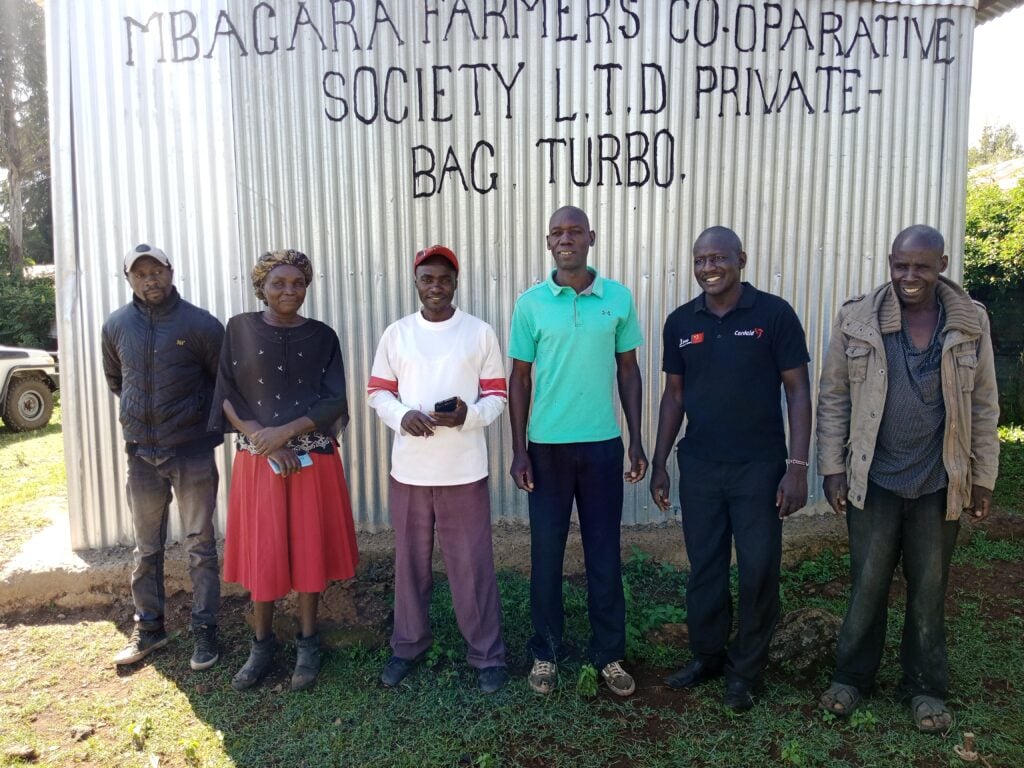 Through Cordaid's Strengthening Agricultural Resilience Through Learning and Innovation (STARLIT) project, members of the Mbagara followed a training course called the Agribusiness Leadership Programme (ALP). 
Eye-opener
An initial assessment before the start of the training turned out to be an eye-opener for the cooperative's management team. The assessment revealed crucial gaps and inspired the involvement of youth and women in their leadership structure. 
"In the training, we discovered that it is not enough to have youth and women only as our members, they also need to be at the table."
The cooperative started taking proactive steps to foster inclusion, specifically focusing on encouraging youth and women to take up leadership roles and actively participate in decision-making processes. By doing this, the Mbagara is ensuring its own sustainable future.
"We focused on learning about the gaps that led to the collapse of the cooperative", says Felix Wanjala. "In the training, we discovered that it is not enough to have youth and women only as our members, they also need to be at the table. They actually make up the majority of our members."
Currently, Mbagara has nearly 2,500 members drawn from over 70 groups and 7 community-based organisations. Their leadership structure comprises a management committee of 6 men and 3 women, including 4 young people.
The STARLIT project was implemented by Cordaid in Kenya and Rwanda targeting maize farmers in Kakamega County and Kayonza District.  
International Fund for Agricultural Development
The project was funded by the International Fund for Agricultural Development (IFAD) South-South Cooperation for a period of 18 months (January 2022 – June 2023). STARLIT aligns with the China-IFAD South-South Cooperation Facility by supporting rural productivity, access to markets, increased income and food security and promoting South-South learning. 
The Agribusiness Leadership Programme (ALP) is a curriculum of the International Finance Corporation (IFC), which is a member of the World Bank. The curriculum was a key component of the STARLIT project in Kenya.
Notably, the ALP curriculum is one of the standard tools available in the Agribusiness Market Ecosystems Alliance (AMEA) toolbox. Cordaid is the host and network facilitator of the AMEA Kenya local network, comprising 11 organisations.