While world leaders have kicked off two-week climate talks in Sharm el-Sheikh, people around the globe continue what they have been doing for years: fighting climate change in their villages and cities. Haron Obong from Uganda is one of them. "If we fail to be the custodians of the environment, we fail as human beings."
There must be a thousand people in and around Lira City, Uganda, taking better care of trees thanks to Haron. In turn, they inspire thousands of others to live with plants instead of off them. Plants that were born and raised in one of Haron's seedling centers, now offer shade, produce food, increase biodiversity and help the soil battle drought and rising temperatures. Instead of being cut for wood or charcoal.
Haron Obong is 27. In 2022, he participated in Cordaid's Young People Behind Cameras project. This initiative brought together young filmmakers from conflict-affected settings, showing young people's perseverance in breaking down barriers and fostering social change.
Ecology & economy
Haron was raised in a farming community and combines entrepreneurial skills with ecological commitment.
"Rains, these days, are few and come unexpected. When I was a kid, sometimes it rained for weeks, starting in March. Now, farmers have to wait until May. The crops they invested in for months, can't stand the heat and drought. The little quantities of maize and beans people manage to harvest are consumed, leaving no seeds for the next season. And that's how changing weather patterns cause food insecurity."
"I studied forestry and agriculture. When I had my degree, I sat down and looked into myself. How can I sustain myself? What are my strengths? What should I do? I had a passion for trees. That was the answer! I saw so many farmers struggling with drought. Planting trees and taking good care of them could help them, restore the environment, and be my source of income."
Switching to locally produced organic alternatives
"I started in 2014, on my own, with 200 seedlings. Mainly orange and citrus trees and pines. But also the great shade givers, like teak. Business is not an easy venture. Yet eight years later, I have just opened a third seedling center, employ over a hundred persons and grow about 100.000 seedlings a year."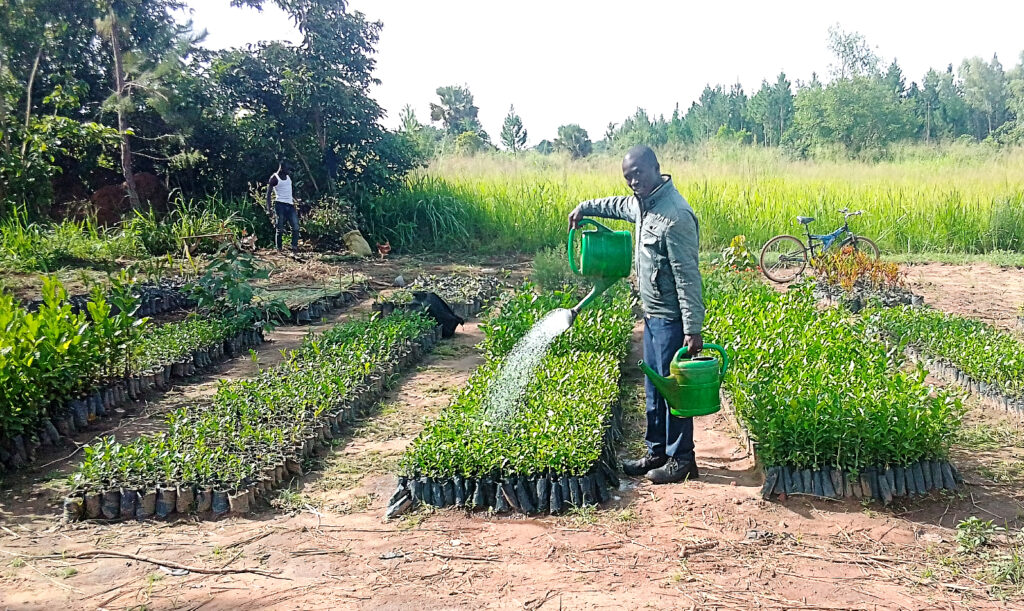 "Trees help us adapt to climate change. For instance, they produce the shade that is needed to maintain the right temperatures in seedling nurseries. And I have adapted my farming. I use the swamps for irrigation, I grow more drought-resistant crops like eggplant. And we constantly improve our plant and tree varieties, by using grafting, budding, and cloning techniques. By mixing local varieties with foreign ones that grow faster. And even though, at this stage, we still have to use chemical pesticides and fertilizers, we are increasingly switching to locally produced organic alternatives. Like local red pepper, which proves to be a good pesticide."
"If we fail to be the custodians of the environment and the food systems we depend on, we fail as human beings. And we fail to do justice to God."
"I pass on my tree knowledge to every person who buys my seedlings, offering training for free. Showing them how to keep their plots clean. Not to cut, but to prune trees. And if you have to cut one, plant ten others. We show how to make alternatives for charcoal, like manure briquets. In short, we show how to live with plants and trees instead of off them. To live friendly with the environment and improve business skills at the same time."
Trees contribute to peace
"Of the over thousand persons I have trained, most are youth and at least half are women. Elderly farmers do join us, but they're a minority."
"Our work has impact. It makes a difference. Whenever I travel around, I see my trees. I see them grow, hear them rustle. They survive and bring food and shade to so many homes. It makes me proud."
"In the end, I just love to live where there is peace. And for me, these trees contribute to peace. If we fail to be the custodians of the environment and the food systems we depend on, we fail as human beings. And we fail to do justice to God."