After fleeing the violence in their country, many South Sudanese have found refuge in northern Uganda. The country admirably responded to the needs of hundreds of thousands of people, but the vast refugee settlements have also turned parts of the once lush region into an arid landscape. Two women are successfully restoring the natural environment.
Together 30-year-old Rafah Asibazoyo and 55-year-old Zaida Ayaka own 15 acres of land with teak trees. They witnessed deforestation and the rapid degradation of the environment and could not stand idle. With their efforts, they have proven that by including women in nature conservation efforts, we can tackle two of today's most pressing issues: the climate crisis and gender inequality.
"When we started receiving refugees in our area, many trees were cut down to create the settlements", Zaida says. "The charcoal business also skyrocketed. On top of that, the rain became more unreliable, the temperatures rose and we had no more trees to provide shade."
Going against societal norms
When they started their initiative, the women clashed with the local patriarchy. Their male counterparts believed that conservation efforts were solely a man's responsibility. Rafah and Zaida refused to be deterred by societal norms and participated in a training programme by Cordaid Uganda on how to create environmentally and economically sustainable livelihoods.
"The training equipped me with practical skills in tree planting. Like many others, we used to think that trees just grow on their own", says Rafah.
"By fostering a sense of self-reliance and empowerment, individuals within the community are equipped to overcome challenges related to climate change"
But Rafah and Zaida did not stop at planting trees. By using the technique of intercropping, a practice that involves the cultivation of two or more crops on the same field, they have managed to enhance their food security.
Skilling in Agripreneurship for Increased Youth Employment
As part of the SAY project (Skilling in Agripreneurship for Increased Youth Employment), Cordaid trained 18 business support facilitators to offer information on best practices and advice to individual farmers and farmer groups.
According to the project's agribusiness advisor, Martin Ojara, SAY especially encourages women to take up opportunities and work alongside their male colleagues as decision-makers. "We have also observed that when women and young mothers receive the knowledge and skills, they often pass it on to their peers in the community. By fostering a sense of self-reliance and empowerment, individuals within the community are equipped to overcome challenges related to climate change."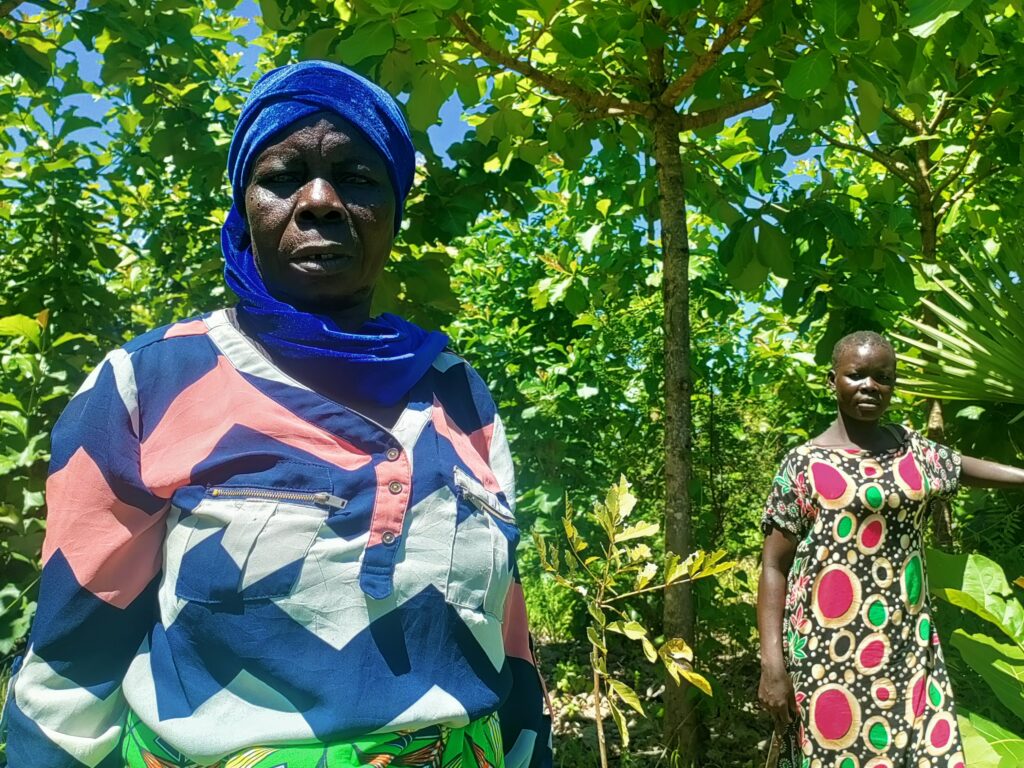 The transformative power of reforestation
The community has become more resilient and independent and has the ability to mitigate the impacts of climate change. They no longer rely on assistance from others but take proactive measures to protect themselves and their environment.
Other farmers in the community have now reached out to both Rafah and Zaida for advice on how they too can plant trees on a large scale. Zaida: "One man has planted an acre of teak trees and another person has already prepared 10 acres of land to plant more trees."
As the news of their success spreads far and wide, neighbouring communities begin to recognise the transformative power of reforestation. They see that the trees revitalise the ecosystem, increase biodiversity and provide numerous other benefits, such as protection from harsh sunlight and better conservation of the soil.
Supporting 4,000 youth
In 2017, Cordaid, in partnership with ZOA and War Child Holland, started a programme to improve the agribusiness skills of youth in West Nile, a region that accommodates a high number of refugees.
Many of them are young people who remain unemployed and need the skills, competencies and work experience to facilitate their employment in agriculture and business. SAY aims to support 4,000 youth from both the refugee and host communities in the Bidibidi refugee settlement.