For almost a decade, Yemen has been torn apart by civil war and international power play. The country is longing for peace and that is why hundreds of Yemeni representatives gathered in The Hague this week to discuss the future of their country.
While the second Yemen International Forum was taking place, we had our own conversation with two colleagues in the country. They talk about looking forward, beyond the conflict, the importance of innovation and the need for the international community to step up their game.
Monther Al-Sakkaf and Mohammed Abdulrahman manage Cordaid's programmes in Yemen from the government-controlled city of Aden. Although recent months have been relatively calm, Yemen remains a complex patchwork of claimed territories, either by the Iran-backed Houthi forces, the Saudi-supported government or the southern separatist movement.
"We need to let the world know what is happening and we need to enable and empower the youth."
Cordaid and its partners run various programmes in Yemen. In the north, Cordaid supports basic health centres and provides mental health services. In the south, the support consists of cash assistance, vocational training and helping people integrate into the labour market.
Monther and Mohammed fill us in on the latest developments in the country and Cordaid's efforts to support the Yemeni people.
Monther: "The situation at the borders is quite stable now. There aren't many violent conflicts, except for some sporadic incidents. Also, the access for humanitarians to many areas has gotten much better, which helps our work. Things are changing. Prisoners are being released, families are reunited. Some mothers hadn't seen their sons in over eight years."
Mohammed: "We are optimistic about the talks in The Hague. There are also young people present, I heard. Involving youth in the decision-making and having them represent Yemen in the world, is crucial. We realise people do not receive a lot of news from our country. We need to let the world know what is happening and we need to enable and empower the youth."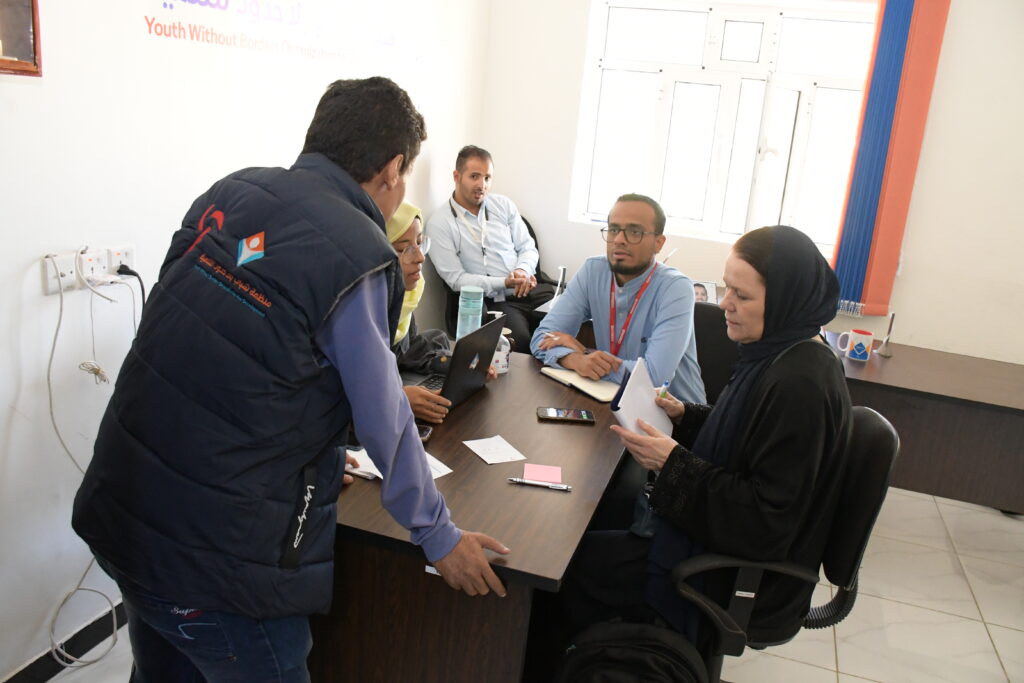 Monther: "Although some things have become better, there are still many challenges. We are struggling with obtaining travel permits, for example. It's hard to get to the right places, at the right time. We have a divided country with two systems. Both parties need to facilitate organisations and make it easier for us to do our work. It would be great if the peace talks would lead to the end of the war, but we also need to talk about humanitarian interventions. We need to agree to some rules, facilitate access and provide security.
"We had only 40 psychiatrists in the whole of Yemen, who had to provide services to a population of 35 million. We are doing everything we can to fill that gap."
Last year, we experienced some intense moments during our work. One of our distribution points was attacked by missiles. We advised everyone not to come to the location and we had to find an alternative spot in another village. No one got hurt, but we were all very scared."
Mohammed: "This event shows that also the humanitarian workers themselves can end up in a situation in which they need mental health support. Recent studies show that often they are the ones who need it most. Whatever happens, they just keep working."
Monther: "There is a huge gap in mental health care. There are simply not enough resources available. We had only 40 psychiatrists in the whole of Yemen, who had to provide services to a population of 35 million. We are doing everything we can to fill that gap, by training social workers who provide support in the remote areas."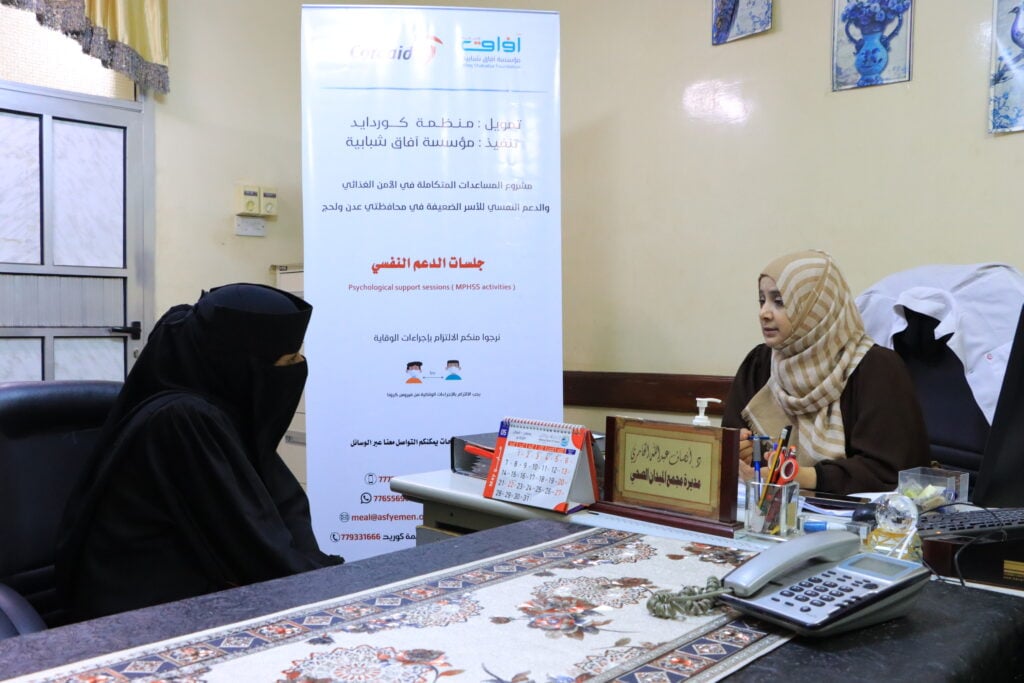 Mohammed: "We look back at the past two years with a lot of pride. We have made our profile in Yemen bigger, we started more projects, we attracted more funds, and we have been successful in inventing innovative solutions with our partners. Like an app that helps people get the mental health care they need. The users answer questions about their problems, such as 'Do you suffer from insomnia?' or 'Are you struggling with depression?'. Our mental health experts receive the data from the app and they assess the user's condition. They then receive tips and advice in return. If the case is severe, they will be referred to a hotline for further consultation or directly to the service provider. We are about to launch a prototype of the app that will be tested and validated in the coming six months. In the next three years, we will keep developing it."
Monther: "This is precisely the type of innovation we need. The more people use the app, the more they provide us with valuable data, which helps us improve our services and better prepare our programmes."
Mohammed: "And we need to do more. At first, we focused on emergency assistance. This year our activities shifted more towards creating sustainable livelihoods. This change is very much demand-driven. During our visit to Taiz, many people told us they are longing for more durable support. That's why we are now planning on working with farmers and fishermen and providing vocational training to people in cities."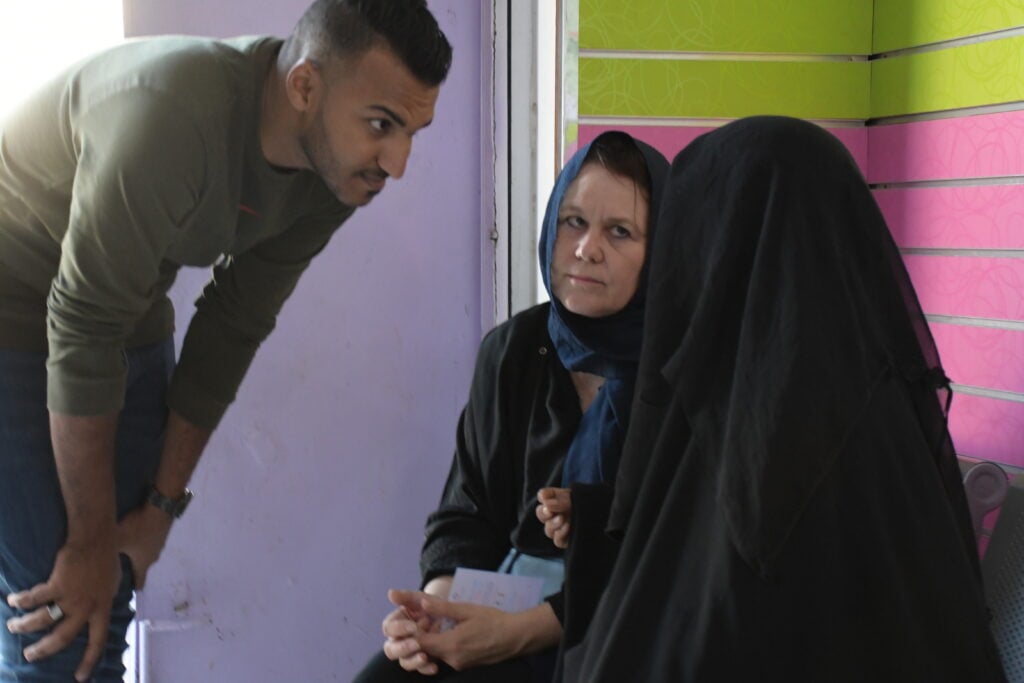 Monther: "Climate change is also a major issue. We need livelihood programmes that make people more independent and enable them to provide for themselves."
Mohammed: "Farmers are losing crops due to floods, but people are also not getting their earned salaries. If they receive any at all, they often only get a fraction due to the collapsed economy. Many families need to feed five or six children and pay their rent. This forces them to have only one very basic meal a day, which leads to malnutrition.
Our main concern now is, many international NGOs are lacking funds to give Yemen the support it needs. We are stuck between war and peace. Humanitarian donors see the peace talks happening and believe the situation is not as bad anymore. Development donors will only step in once the peace agreement is final, fearing things might escalate again. It's out of our hands. I like to remain optimistic though. There is a pre-agreement on the table, that might develop into a real agreement. Let's hope for the best."